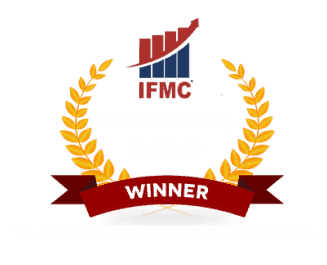 Quick Trader -Stock Market Trading course for beginners
Learn Share Trading Online in 13 Hours
Quick trader course is an intermediary and advanced level STOCK MARKET TRADING COURSE FOR BEGINNERS The course covers basics knowledge of the stock market and how to spot powerful trade using technical analysis. You will learn everything you need to make independent market decisions and produce consistent profits. You can also learn 9 intraday trading and positional trading strategies using a live trading example.
Quick
Trader Course
By IFMC® Institute
4680/-
₨
( Inclusive of GST)
Duration : - 9 Month

Language : - Hindi

Certification : - Yes
Introduction

Course Outline

Target Audience

Requirements

Demo
Do you want to learn share trading? Become confident and comfortable to manage your hard-earned savings in shares with India's top share trading course for newbie's.
Why waste time when by joining stock trading comprehensive course can help you get started to share trading in 13 hours. Yes, right! IFMC presents to the top-selling stock trading course online for beginners by India's top technical analyst. If you have a dream of learning what is stock market trading and how to trade in the market, then this is the best foundation trading course for beginners. Where you can learn
What is the investment?
What are the different types of investment?
How to trade in share market?
How to make money in the share market?
All these topics are covered in 13 hours of a stock trading online tutorial. Everyone wants to make money. But only a few know that stock investment brings tremendous money-making opportunities. Stock trading is much more than just buying and selling of stocks. The stock market trading course helps you get started with trading in stocks. You do not need to be a CA, MBA or a hedge fund manager to join the course. It is a perfect introductory online share trading course where you will learn the basics of share trading and how to invest with little or no money.
Overview

There are very few options to invest and generate money. While, the stock market is one such option to earn money in the short-time through trading. Students, housewives, retired officers, even working professional who want to explore how to make money in stock trading can join quick trader course. The 13 hours beginners trading course to stock market covers important topics including:
What is the stock market?
What is stock exchange?
What are the different types of share market?
How to trade in NSE, BSE, and other Indian Stock Exchange?
Quick trader program is divided into two series of stock market course for beginners and Uni-Directional Trade Strategies. Stock market course beginners offer a clear and concise insight into different types of the market including commodity market, currency market, capital market, and equity market. The program also includes the basics of fundamental analysis of stocks which help traders to pick the right company through the study of company analysis. Understanding all four markets is important for investment purpose.
Whereas, Unidirectional Trade Strategies series focus on the basics of how to create a winning trading strategy. The strategies are based on an important concept of technical analysis that are essential for newbie's.
Together, both the program simplifies beginners trading knowledge. The perfect online trading course online is a blend of theoretical and practical learning. Where students must learn live trading in stocks, bonds, futures, commodities, and options.
Features

Learn how to find and analyse the company
Determine the risk of stock investment
Legal SEBI framework in Indian stock exchange
How to enter and exit a trade
Learn the right technique to trade
Objective
Quick trader is a short-term stock trading course. Financial market aspirants can learn how to make fast money in stocks in less than one day. It is a best online stock trading course in India providing a clear understanding of where to begin in stocks, how to find the best stock, what is stop loss, and how to create a trading strategy. The beginners stock trading course in popular among 150+ countries including in USA, UK, Canada, Dubai, Australia, and more. Investing and trading in stocks is a great way to secure the future. When looking out where to invest money, stock market is lucrative in comparison to other investments like Mutual Funds, Savings Accounts, Forex etc.
Stop wasting time in stock trading free online videos
Dump those confusing books for stock trading
Learn stock trading online from an easy step-by-step tutorial
Follow top stock trading course online for beginners updated curriculum
What Will You Get?
| | |
| --- | --- |
| Recorded Video | :       34 videos |
| Total Video Time | :       13:30 Hours approx |
| Language | :       Hindi |
| Books | :       E-Book in PDF (On Demand) |
| Faculty | :       Mr. Manish Taneja, Mr. Puneet Grover |
One Doubt Session On Each Module * - ( Time Slot Will Be Given As Per Faculty Availability)
Job Opportunities

Students can become a dealer or a terminal operator in broking houses after completing this course.
Course Fee
Rs 4680/-  ( Inclusive of GST)
Course Validity
9 months
Stock Market Course For Beginners
Lecture 1
■ Basic of Investment
Lecture 2
■ Common Errors while Trading
■ Long Term and Short Term Trading
Lecture 3
■ Capital Market
Lecture 4
■ Understanding IPO
Lecture 5
■ Secondary Market
Lecture 6
■ Regulatory Framework
Lecture 7
■ Online Screen Based Trading
Lecture 8
■ Basics of Trading
Lecture 9
■ Clearing and Settlement
Lecture 10
■ Debt Market
Lecture 11
■ Basics of Fundamental Analysis
Lecture 12
■ Fundamental Analysis Part 2
Lecture 13
■ Derivative Market
Lecture 14
■ Derivative Market Part 2
Lecture 15
■ Option Strategies
Lecture 16
■ Currency Markets
Lecture 17
■ Currency Futures
Lecture 18
■ Commodity Market
Lecture 19
■ Regulatory Framework of commodity
Uni-Directional Trade Strategies
Lecture 1
How to become successful trader
Difference between investor and trader
Lecture 2
Professional trading is an "art", is a" technique"
Lecture 3
Rules of professional trading
Lecture 4
Making a short-term view (bullish or bearish ) through fundamentals.
Lecture 5
Making a short term view ( bullish or bearish) through technicals.
Lecture 6
Uni-Directional trade strategies
I – Intraday trade model (candle)
ii – Long-term positional model (candle)
iii – Positional trade model candle
iv – Short-term positional model candle
v – Long-term positional model line
vi – Positional model line
vii – Short-term positional model line
viii – Intraday model line
ix – Long term wealth creation through technical
Who should take an online Quick Trader Course?
Online stock trading course is for
Freshers and graduates intended to introduce to share market introduction
Students who are passionate about wealth creation
Housewives and retired officers who want to make money with stock trading
Working professionals who do not have time to attend a classroom course
Beginners, brokers, and sub-brokers intend to learn stock trading basics
Swing traders who want to learn stress-free trade
Course Requirements
PC, Laptop, I-pad, Tab, Mobile, with 4G internet
1 : Stock Market Course For Beginners
2 : Uni-Directional Trade Strategies ©
Disclaimer for Online Courses


"Quick Trader Course" course videos are for educational and information purpose only. Please refer our website for course details. We advise you to understand the strategies well and use your own discretion to use them in live markets. Paper trades initially suggestive.

Trading of Stocks is subject to Market Risk, users use their own discretion to trade in Live Market.

IFMC is not responsible for any Loss or Damages of any kind to the student/client.
Quick
Trader Course
By IFMC® Institute
4680/-
₨
( Inclusive of GST)
Duration : - 9 Month

Language : - Hindi

Certification : - Yes