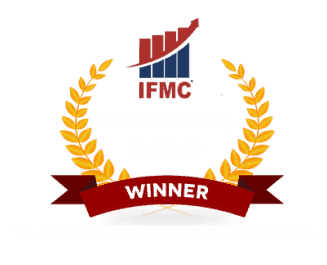 Career Opportunities in Banking & Financial Market Industry
Careers in Financial Markets and Banking
IFMC Institute is recognized as one of the best platforms for stock market education in India. It is one of the biggest institutes to offer classroom, online, and live classes in share market training. Further, IFMC is the only institute with ISO certification acclaimed for its International Standard of Education and Training in Financial Market Education.
Five popular job-oriented courses at IFMC Institute are
IFMC Institute is ranked amongst the No.1 institute for stock market education. Students aspiring to establish careers in the banking and financial markets seek admission at AFMC Institute around the world. IFMC offers over 20+ specialization courses for investors and traders.
Each course is designed on a lasting curriculum as per the industry's current job requirement. Students get both theoretical and practical knowledge which helps them learn skills required for a job. Along with mock test papers where students can practice their skills before certification exams. IFMC also offers placement assistance for aspiring students.
IFMC is the Number #1 Institute of banking/insurance and financial markets. IFMC is the pioneer in the quality education of Stock Markets in India. We provide complete in-depth knowledge in all segments of the financial markets, like share market, capital market, derivative market, commodity markets, currency/Forex market, mutual fund, and insurance sectors. 
IFMC also offers certificate courses for technical analysis, fundamental analysis, research analyst, NSE, BSE, NCFM, NISM, BCSM MCX NCDEX, MCX MODULES PREPARATION, and CERTIFICATION, CDSL NSDL DP MODULE preparation, risk management, etc.
After completing the course in the stock market, students can work in the financial market for various profiles. Some popular career opportunities available in this domain are:
Equity dealer
Financial manager/relationship manager
Wealth manager
Financial planner
Arbitrage dealer
Business development manager
Investment advisor
Mutual fund advisor
Broker / sub-broker
Hedge funder
And many more
A stock market fresher in India can easily earn 4-5 lakh per year and sky's the limit. For more inquiries related to stock market courses and admission to IFMC contact us.