IFMC Stock Market Institute Pitampura Delhi Branch
IFMC-STOCK MARKET INSTITUTE Pitampura BRANCH DELHI FOR STOCK MARKET TRAINING COURSES & SHARE TRADING COURSES. IFMC IS THE BEST INSTITUTE FOR STOCK MARKET EDUCATION. IFMC IS KNOWN FOR SIMPLISTIC LECTURES IN STOCK MARKET AND HAS TAUGHT A COMMON MAN TO TRADE WITH TRADE WITH SIMPLICITY & CONFIDENCE. WHAT SETS APART THE IFMC FROM OTHER INSTITUTE IS ITS METHODICAL WAY OF TEACHING, COMPLETE THEORETICAL KNOWLEDGE ALONG WITH PRACTICAL KNOWLEDGE. WHETHER STUDENT WANTS TO BE A FULL TIME TRADER OR DO JOB IN STOCK MARKET, IFMC'IANS ALWAYS GET AN EDGE OVER IN MARKET. UDTS© AND MADE, THE COPYrIghT STRATEGIES OF IFMC ARE BEST WAY TO LEARN STOCK TRADING IN A PERFECT MANNER. IFMC PITAMPURA ALSO SERVES ROHINI,AZADPUR,PUNJABI BAGH,MANGOLPURI,TRINAGAR, KIRTI NAGAR,WEST PATEL NAGAR,PEEDHAGADHI,PASCHIM VIHAR,BURARI,RAJAURI GARDEN, INDERPURI, KANJHAWLA,MODELTOWN,KAMLA ,NAGAR,MUKHERJEE,NAGAR, SONIPAT ANDBHADUGARH.
USP OF IFMC® INSTITUTE DELHI
IFMC ® is ISO Certified Stock Market Institute
IFMC ® is Pioneer & has a monopoly on Stock Market Courses.
IFMC ® is the only Institute having its own copy write Trading Strategies UDTS ©️ & M.A.D.E. ©️
IFMC ® has its own Softwares & Learning Screeners for Intraday, Positional, long positional and Investments that makes learning more easier.
IFMC ®️ has its own book UDTS ©️ Intraday Trading Brahamastra - A comprehensive guide for all beginners, traders & investors.
IFMC ® has a belief of 12 Million plus learners associated with IFMC ®
Best Reviews on YouTube and social media (Reviews in lakhs).
Practical training in Live Market.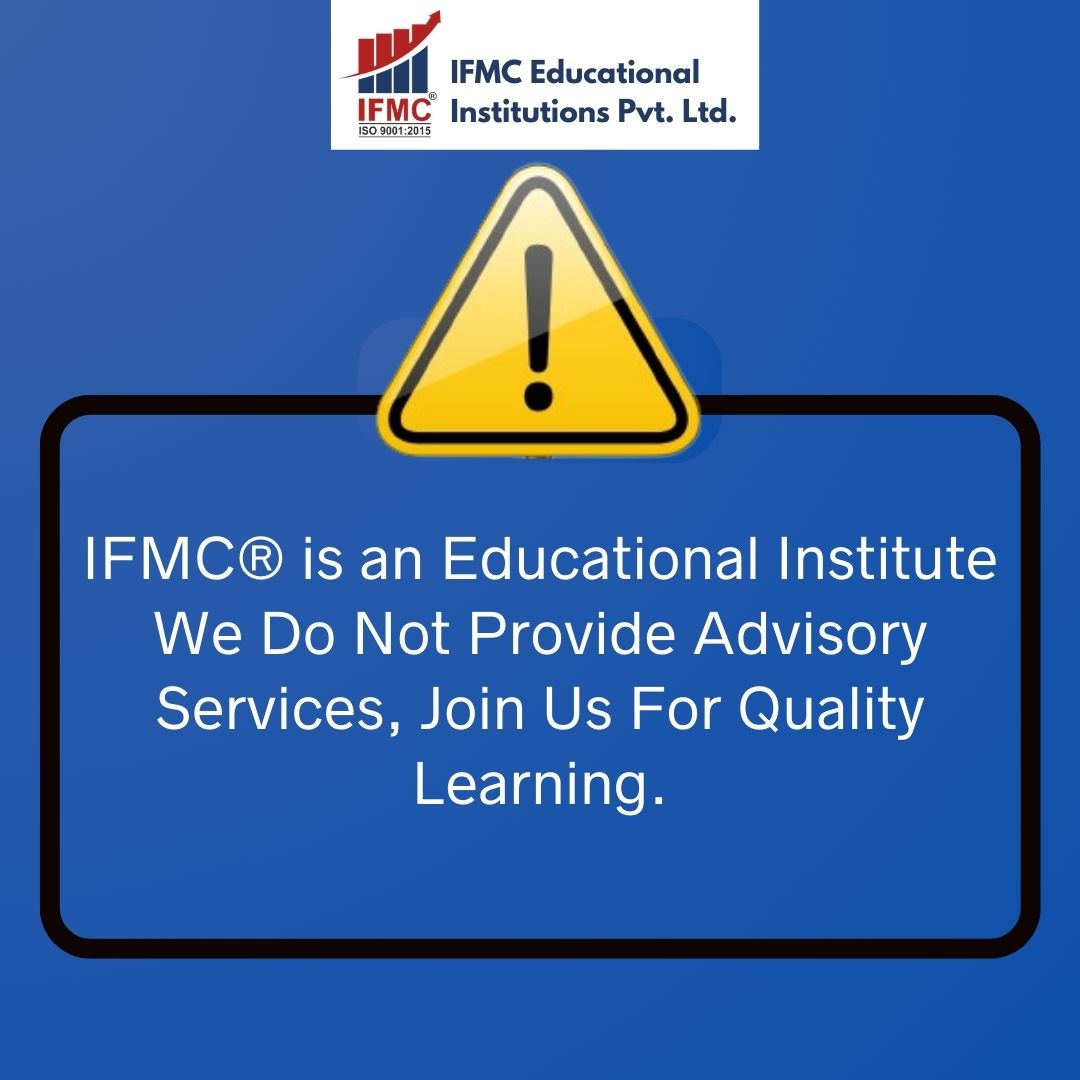 LEARNING TOOLS AND RESOURCES


UDTS© Intraday
Trading Brahmastra
- BOOK

UDTS ©
INTRADAY LEARNING SCREENER


UDTS © - VSM
THE FUNDAMENTAL LEARNING SCREENER


FREE STOCK MARKET
LEARNING


FINANCIAL LITERACY PROGRAMME FOR SCHOOLS
MOCK TEST-PRACTICE QUESTIONS PAPPERS FOR NSE, SEBI, NISM, NCFM CERTIFICATION
Why is UDTS So Popular Amongst Stock Market Traders?
UDTS Best Intraday Trading Course
IFMC ONLINE & CLASSROOM STOCK MARKET INSTITUTE IS BENEFITING
Weekly Prediction
25 - Sep - 2023 to 30 - Sep - 2023
Feel free to get in touch using the form below or call us anytime. We'd love to assist you to make your share market learning experience enjoyable. We care about your privacy. Your details are secure with us.
Please be patient while waiting for the response.
For General Inquiries: +91-987-051-0511
IFMC-STOCK MARKET COURSES IN PITAMPURA
Franchisee Name: PKT Professional Education Centre Pvt Lt 
365,3rd Floor Kohat Enclave
Metro Station Pitam Pura, Delhi – 110034
Contact person:- Shobit Tibrewal