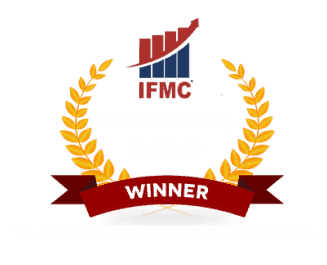 Online Share Market Courses For Investors And Traders
Introduction

Objective

Features

Eligibility

F.A.Q
Learn How to best returns from Stock Market Investing with
India's No 1. Online Courses for Investors and Traders
IFMC offers online stock trading courses for both investors and traders. If you want to begin in stock markets, you need to learn the basics of stock trading, technical analysis, positional trading, or Intraday trading, IFMC has a range of courses to empower beginners with trading knowledge with simplicity.
Introduction 
IFMC online stock market courses for investors and traders include clear and simple lessons on how to get started with stock market investing, analysis market strength and weakness, and verified profitable trading strategies. Stock trading and investing is an effective way to make money or to generate part-time income from the stocks and share markets, but you have to learn the professional trading technique. With the right guidance, understanding how to generate returns from the stock market ensures that you become a successful trader after taking technical knowledge.
A trader is someone who invests in the market for short-term investment. There are three major types of traders - day trader, swing trader, and positional trader. Similarly, an investor is an individual who makes short-term or long-term investments. Once you decide on the trader or investor you want to become, IFMC courses shall help you how to trade or invest wisely and also learn how to trade in NIFTY and SENSEX.
Each course focuses on helping beginners to grasp the knowledge of wealth creation from the stock and share market. We prepare simple course modules for you to explore how to analyse a company stock, what is IPO, and how to select the best company to invest in. The program includes the study of the four Indian stock market segments that are equity market, derivatives market, currency market, and commodity market. By taking the courses you will understand how to trade in Indian stock market besides make profit maximization theory. Taking the course offer tremendous opportunities for students to discover.
What is DEMAT account and depository?
What is a mutual fund and how to invest in mutual funds
What is technical analysis?
What is the fundamental analysis?
How to invest in gold, silver, and crude oil?
How to make money from stocks in the share market?
How to earn from stock markets?
How to make profits from stock markets?
How to be profitable in stock markets?
And many more!
The world's best instructors with wide years of experience in trading led the courses.
Learn hands-on investing in stock market skills from industry experts.
Get complete theoretical and practical knowledge in live trading.
The course comprises an in-depth understanding of technical analysis charts, patterns, and IPO case studies to help students understand how to analyse the company's stocks.
Students, working professionals, housewives, retired officers, fundamental analysts, equity dealers and anyone who wants to learn how to trade in the stock market.
1- What is the best online stock market course for investors?
IFMC offers the best courses for investors in the stock market. If you want to start with a short-term course, we recommend  Quick Trader Course for Intraday & Positional Trading and Online Fundamental Analysis Course. If you have time for in-depth study, then enrol for an Options Trading Online Course Technical Analysis to improve your investments skills. The aim of each course is to help beginners in the stock market to acquire the best knowledge.
2- Why does IFMC choose online stock market courses for investors and traders?
IFMC is recognized as the best e-learning platform worldwide for its innovative learning programs. The investors and traders online stock market course has transformed learning. The online courses have revolutionized investors and traders to learn how to make money in simple shares. The basics advantage of online stock market courses with IFMC are:
Flexible learning
Latest industry curriculum
Self-paced learning
Time-saving
Affordable
3- Who should enrol in IFMC stock market online course for traders?
Traders who want to learn stock market trading from scratch must enrol for the program. If anyone who wants to become a professional trader else looking to job as a broker or sub-broker can take an online stock market course for traders and prepare for NSE SEBI NISM NCFM certification. Financial consultants or mutual fund advisors can also study the course to upgrade their knowledge and start their own business. While housewives and retired offices can enrol to the online trading course to earn part-time income.