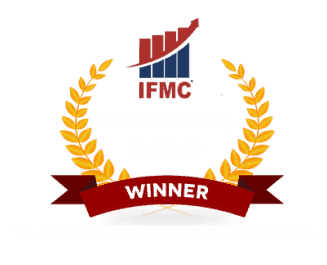 INVESTMENT ADVISER XA LEVEL
Investment Adviser Training Institute in Delhi, Noida & Vaishali
Investment Adviser XA Series
Investment Adviser XA modules is  NISM series modules. According to SEBI regulation 2013, any person or organization involved in giving advisory for investment must be registered as an investment adviser. The certification aims to enhance the quality of investment adviser and related service in the financial industry.
Unique Feature of Investment Adviser Module
Helps to understand how to evaluate different products, their suitability and how the recommendation of same can impact investment returns, risk and strategies.
Get oriented to income tax, wealth tax, and legalities of estate planning in personal finance.
Get acquainted with financial planning as an approach to investing insurance, retirement planning and an aid for an adviser to develop long-term relations with their clients.
SEBI NISM Investment Adviser XA Certification
IFMC Certification IN INVESTMENT ADVISER XA SERIES
Job Opportunities
After completing this course students can apply for a job in a research house, private banks, management, hedge funds, mutual fund house, credit rating agency, and more.
Certifications
1 CERTIFICATES OF NISM INVESTMENT ADVISORY CERTIFICATION
1 CERTIFICATION FROM IFMC (Autonomous) in INVESTMENT ADVISOR
 *NCFM and NISM Certificates are subjected to appearance for the exam at the NSE Center. You get 100% preparation at the branch.
Registration Fees – Rs 1700/-
Program Fee – 18,000/-
Program Duration 1 MONTH
Plus GST
Note: Examination fee of NSE & SEBI certification is extra as  given.
Pay Full or Partial Course Fees
DETAIL CURRICULUM
Module: Investment Advisor (NISM Certification)
Objectives of Investment Decisions
Different types of Financial Markets
Understanding the concept of Fixed Income Securities and their valuation
Capital Market Efficiency
Modern Portfolio theory
Financial Analysis and Valuation
Valuation of Derivatives
Portfolio Management
Who Should Do This Course?
Anyone who wishes to become INVESTMENT ADVISER
MBA & BBA Students
People working with Banks, Share Market, Research Houses and advisory firm Anyone who wants a job
Those who want to pursue the career in financial service or wants further upgradation
After completing Investment Adviser one can become Investment advisor, Portfolio Manager, Analyst in broking firms, Banks, financial institutions.
Admission Criteria and Eligibility:
The candidate should Minimum 12th (Senior Secondary) pass from any reorganization Board/institutions. We always recommend the candidate should pass at least bachelor degree so that it will be a bit easier to provide placements. Graduate students get job placement on the direct payroll in big companies, and 12th students will get placement in small companies or in sub-brokers office.
*placement guarantee refers to (After getting NCFM and NISM Certification of all 10 modules covered in advance diploma course)
All original documents-10th,12th graduation, other professional degree certification and mark sheets must be submitted in as a self-attested copy/copies at the branch at the time of admission and originals must be shown to the center In Charge, failing which admission may be cancelled
95% attendance is must during the programme in each module opted by the student.
Remarks /Recommendation of faculty and center Head will be taken in the record after each class
Your certification depends on your Attendance, class assessment, projects, internal exams, NSE exams, Practical classes, Projects and Viva
The decision of Center in Charge and center Head will be final.