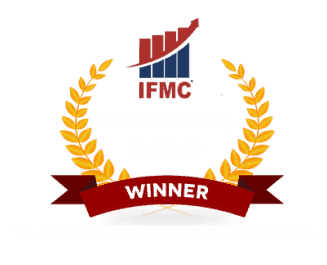 TECHNICAL ANALYSIS COURSE
Technical Analysis - Stock Marketing Institutes in Delhi, Noida & Vaishali
Technical Analysis Course
Certificate Course in Technical Analysis (NCFM – NISM – IFMC) – 20 NSE Modules
Quickest Way to Deal with Stock Market Losses
Losses in the stock market can happen to anyone. Losing your hard-earned money can be stressful. It is more than a painful lesson.
Best way to deal with losses is to recognize your failure. And get started with making right decisions. Subsequently, the best course of action it to regain your stock investing skills with technical analysis course knowledge.
Technical analysis is a sure shot way to increase your winning probabilities in the stock market with minimum risk in trading.
Join IFMC technical analysis master classes in Delhi – Vaishali (Ghaziabad). And upgrade your winning probability in stock market. With 2000+ members who have access to India's top 50+ wide ranges of stock market courses.
What is Technical Analysis Course?
Technical analysis is a one-month full-time program. The program caps 20- NSE modules along with practical trading classes. Whether you are a stock market beginner or seeking to upgrade share marketing skills. Our technical analysis program offers everything you need – to get to the next level.
Technical analysis is a one-month full-time program. The program caps 20- NSE modules along with practical trading classes. Whether you are a stock market beginner or seeking to upgrade share marketing skills. Our technical analysis program offers everything you need – to get to the next level.
Technical Analysis Meaning:
What is Technical Analysis in Simple Words?
At its core, technical analysis is a trading disciple. Technical analysis study helps traders or investors to make smart decisions. Technical analysis is a subset of stock market analysis. Where direction of prices determines through the study of past market price movements.
You may buy shares when the price is low; thereby sell them when the price is high. Understanding that the concept to buy when low and sell when high will be essential for your success. But probably not, because there are factors that influence share price value. If you are planning to pursue a career in stock market, why should you learn technical analysis?
What Skill You Will Learn With Technical Analysis Course?
Why to learn technical analysis? Well, because technical is a foundation study in stock market analysis. It is self-contained to offer ground for those who intend to take technical analyst profession. For instance, knowing which stock is best to buy adherents analysis some of which is technical. Technical analysis course imparts:
Sustain living from active trading
Building a self-trading strategy
Win market during intraday trading and Positional Trades.
Market behavior to the psychology of normal investor and traders
Techniques to analyze high probability data
Analyze price action
Understand Forex market
Setting up targets and apply stop loss
Why Join Technical Analysis Course?
Technical analysis course is highly interactive and practical program. Historic data utilize from a different market.  For instance, cryptocurrency, bonds, futures, currency, crude oil. To allow participant delegate search pattern across time horizon.  Technical analysis course unique features are:
Develop self-trading strategies by using a set of indicators.
Method for price forecasting and financial modeling.
5 tier exposure team of Faculty, Practical Faculty, Older investor and Trader, Research Team, group discussion, Reliance Securities
Best technical analysis course in Delhi NCR
Exposure to live trading / live market trading
Catering stock market beginners to professionals alike
Empower skills to make informed trading and investment decisions
Team of faculty with 15+ years in share market teaching and option trading
Learn how to generate calls in different segments. Like equity research, derivatives market, capital market, currency market, commodity market.
Use of art techniques for risk management, successful intraday trading, swing trading, and short term day trading.
Who Can Take Technical Analysis Course?
Technical analysis course does not limit.
Fresher's: who want to learn basic market terminologies
Professionals: looking for a career in the stock market
Investors: who is likely to anticipate price fluctuations
Stockholders: who want to understand scrupulous review of market behavior
Retail traders, sub-brokers, brokers, financial service who want to enhance the knowledge base
Portfolio manager: who want to make responsible portfolio investment decisions
Treasury managers: who want to increase strategic role to treasury management
Operation managers: who want to review the company's performance
Budget holders: who want to analyze expenditure trends
What to do After Technical Analysis Course?
After completing technical analysis course students eligible to become a certified technical analyst. Also, generate self-calls & tips in the equity market, equity research, and commodity market.
What students take on a technical analysis course?
Raja Chaudhary
The trainers are highly experienced and trained. The environment of the training center is professional. It has been a great experience to learn technical analysis course in Delhi at IFMC. I recommend IFMC institute to all you stock market enthusiasts.
Mayank Arora
This is my third week at IFMC Institute, Vaishali for Technical analysis course. I want to become a technical analyst. Like Warren Buffett, Marty Schwartz, Victor Sperandeo, and James Simons. With a few more practical classes share market success is one step closer.
Prajali Singhal
IFMC is the best stock market institute in Delhi. The classes by Manish sir and Punnet sir are very intuitive. The trading strategies are unique to make huge profits.
Technical Analysis Course Detailed Curriculum
Technical Analysis Course & its Application (NCFM Modules & NCFM Certifications)
What Technical Analysis covers? Technical Analysis is a comprehensive niche. One of the main goals of the course is to introduce participants to advance technical analysis. Students will learn technical analysis of stocks to employ share market knowledge:
Module 1: Introduction to Technical Analysis
What is technical analysis?
Basics of technical analysis
Difference between technical vs. fundamental analysis
Module 2: Type of Technical Analysis Charts
Line chart
Bar chart
Candlestick chart
Kagi chart
Point & Figure chart
Renko chart
Three Line Break chart
Module 3: UDTS-Unidirectional Trade Strategy
Basic understanding of demand and supply.
Trend identification
Demand & Supply on EOD parameters.
Demand & supply on intraday parameters.
Best time to enter or exit a trade according to UDTS.
Module 4: Trend lines
What is the purpose of drawing trend lines?
How to plot trend lines
Module 5: Single  Candlestick study with UDTS
Doji
Hammer / Hanging Man
Inverted Hammer / Shooting Star
Spinning Top
Marubozu
Module 6: Double candlestick pattern with UDTS
Bullish /Bearish Engulf
Bullish /Bearish Harami
Piercing pattern /Dark cloud cover
Tweezer Top & Bottom
Module 7: Triple candlestick pattern with UDTS
Morning star /Evening star
Three white shoulders / Three black crows
Abandoned body (Bullish & Bearish)
Tasuki Gap (Bullish & Bearish)
Module 8: Five candlestick pattern with UDTS
Rising three methods & falling three methods
Module 9: Support & Resistance
What is Support?
What is Resistance?
Change of support to resistance and vice versa
Charts patterns and their study
Four stages: Accumulation, Markup, Distribution and Panic liquidation
Module 10: Chart patterns along with UDTS
Head & Shoulder
Inverted Head & Shoulder
Double top/bottom
Flag & Pennant
Symmetrical, Ascending, Descending Triangles
Wedge Patterns
Rounding top/bottom
Cup & Handle
Rectangles Bullish / Bearish
Triple top/bottom
Module 11: Gaps & Gaps Analysis
Types of Gaps:
Common gap
Breakaway gap
Runaway gap
Exhaustion gap
Island cluster
Module 12: Oscillators & indicators
What does a technical indicators offer?
Why use indicators?
Types of indicators:
Leading indicator
Lagging indicator
Module 13: Moving Averages clubbed with UDTS levels
Simple moving average
Exponential moving average
How to trade on moving averages
Module 14: MACD with UDTS
what is the MACD and how is it calculated?
How to trade on MACD
Module 15: RSI including with UDTS
What is momentum?
Calculation of the RSI
Divergence
How to trade on RSI
Module 16: On Balance Volume
Overview
Calculation of On Balance Volume
How to trade on On Balance Volume
Module 17: Stochastic
Overview
Construction
How to trade on stochastic
Module 18: William %R
Overview
Signals
How to trade on William %R
Module 19: Bollinger Bands
Few rules for beginners
How to trade on Bollinger bands (also learn about Bollinger Bands – Best Technical Analysis Indicator in our blog section)
How to use multiple indicators
Module 20: Money Flow Index
Overview
How to trade on MFI
Module 21: Trading strategy
The Dow Theory
Background
The principal rule of the Dow Theory
Elliot Waves theory
Elliot wave basics
How to trade on Elliot waves
Fibonacci sequence
How to trade on Fibonacci retracement?
How to trade on the Fibonacci extension?
MODULE 22. 
UDTS along with all Technical tools
MODULE 23. 
MODULE 24.
Practical classes with UDTS intraday screener
After completing the technical analysis job oriented course students shall be eligible to be a technical analyst certification and will be able to generate self-calls & tips in equity market, equity research, and commodity market.
Technical Analysis Course Fees
Registration Fees – Rs 1700/-
Program Fee – Rs 15,000/-
Program Duration 1 Month
Plus GST
Pay Full or Partial Technical Analysis Course Fee
Why Attend Technical Analysis Training Course in Delhi
The best technical analysis certification courses in Delhi Institute, India is useful for freshers who are new to the stock trade market and would like to get acquainted with the elementary analysis module and market terminologies. trade brokers, fund managers, technical expert, retail traders, analyst courses, research analyst, option analysis, advanced options, portfolio management, stock exchange, derivatives analysis, sub-brokers, financial service professionals shall also benefit from certified technical analysis course.