Top Institute for  Online Stock Market Course in Ahmedabad
Learn stock market in Ahmedabad from NSE certified technical analyst. Speed up your career in stock market exclusive with IFMC Institute and get world-class stock market training in Ahmedabad.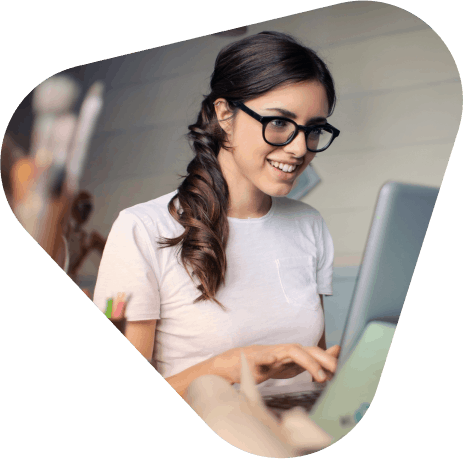 Why Should You Take Online Share Market Course in Ahmedabad?
There is no prerequisite to attend share market training in Ahmedabad. The program is perfect for beginners in stock investing or want to advance a career in share market.

Build Your Skills
Learn 5 essential stock market skills of analysis, research, discipline, focus, record keeping. Join India's biggest e-learning platform where the instructor trains you winning trading strategies.

1000+ Job Opportunities
Earn NSE BSE certification to get a job in Indian stock market. Join the best stock market certification course in Ahmedabad and become a stock broker, financial advisor, research analyst, or portfolio manager.

Self-Paced Learning
Get 9 months of access to high-quality self-paced learning content. The share market content is curated by stock market exchange specialist.
Who Should Attend Online Stock Market Classes in Ahmedabad?
Online stock market course is one of our most popular programs. Students can take the course in Ahmedabad to study and improve knowledge. The programs are divided into different specialisation based on student level.
Why Need to Join Online Stock Market Courses in Ahmedabad from IFMC?
Struggling with which share market institute in Ahmedabad to join? IFMC Institute share market course aims to educate investors, traders and equity dealers. Fortunately for students who are looking to transform data into actionable insights.
Which is the Top Online Stock Market Course in Ahmedabad?
IFMC brings the best online stock market courses in Ahmedabad to study at self-paced.
Online Stock Market Course For Beginners
Want a general overview of share marketing before getting into deep? IFMC online stock market course for a beginner in Ahmedabad is a great way to start. In fact, learning the stock market is not a challenge for you anymore. If you are looking to start, the online stock market course for beginners is the right module to start.
The stock marketing classes in Ahmedabad covers the all basics. For example, what is stock trading, what is stock investing, and what are the important share market tips. You need not spend hundreds of dollars to learn share market in Ahmedabad. Besides, enrol to IFMC beginner's online stock market course which involves less time commitment.
Online Technical Analysis Course
Technical analysis course online helps students from Ahmedabad, Gujarat to study from home. Students who are looking to expand their trading knowledge should take technical analysis course. The best online best technical analysis course for a technical analyst in Ahmedabad empowers to focus on learning trading patterns, psychology, trading strategies, and money-making trading techniques.
The 12 hours online technical analysis course in Ahmedabad is a perfect blend of theoretical and practical knowledge. Where students can benefit from e-learning platform to learn technical analysis in a simplistic manner. Moreover, the course will teach you how to interpret chart patterns, graphs, candlestick charts, candle pattern, support & resistance, and trading skills important for money management and risk management.
Online Diploma in Financial & Stock Market Course
Stock market diploma course in Ahmedabad is a prominent program available for students who wish to make a career in the financial markets, banking, insurance, mutual funds, securities market and back office.
We are recognise for offering best stock market courses in Ahmedabad. We are commit to prepare students for NSE stock market certification examination. The exam is mandatory for students who want to get a job as a dealer, relationship manager, financial advisors,  wealth manager, portfolio manager, and equity analyst. Students can also choose an online course to study at self-paced.
Online Options Strategy Course (by Manish Taneja)
Options Strategy module is an important program which is of interest to Traders, Investors, Students and anyone in the Options Market. It is advisable to have good knowledge about basic of Options or clear Derivative module before taking up this module.
Strategies for options trading can be used for hedging, taking a view on the future direction of the market or for arbitrage. Options are also helpful for implementing various trading strategies such as Straddle, Strangle, Butterfly etc. Thus to generate income for the investor under various market conditions.
Online Capital Market Course
Capital market module prepares students for NSE NCFM certification. The course covers the basics of the capital market and how to trade stocks. The capital market comprises the primary and secondary market. IFMC is best online stock market institute in Ahmedabad to pursue capital market courser.
It gives students an understanding of the basics of the stock market. In the course, students can learn to share trading practice. Online share market classes in Ahmedabad endeavor to train students for NCFM module preparation. The NSE module certification course is for traders, investors, and brokers who want to work in the stock exchange.
Online Currency Market Course
Online currency market course is the most important part of the Stock Market, however, it is least tapped. Currency Market is the world's largest market, but in India people do not understand it much as compared to Equity and Commodity market.
Let's learn how the world market affects currency and view Currency affects the world market. This topic is important from the examination point of view also. Knowledge of Currency is now being most sought after.
Uni-Directional Trade Strategies© Course
UDTS is applicability based video and after going through these classroom videos you will be able to trade more accurately and restrict your losses. Students looking for share trading course in Ahmedabad can study online. UDTS is a best course on trading intraday strategies. The course will help you create a strong portfolio management skills require for make money.
This course contains market behaviours, basics of technical tools, analytics to find the trend and lastly applicability of technical tools in the live market with example.
See what our students have to share
Quick trader is best stock trading courses in Ahmedabad at IFMc Institute. It is awesome e-learning platform for share market beginners like me. Where you can learn share trading in Hindi.
I have been looking for a good institute near by to learn stock market in Ahmedabad. But there were no options. Then I found IFMC institute online trading courses in Ahmedabad. It's been 10 months I am using trading stratgies i learned from best stock market institute in Ahmedabad.
Joining IFMC was the right decision. I got placement in HDFC bank within 3 months after completing the stock market classes. On a salary package of Rs.5.5 lacs. IFMC helped me to build in-depth holding during trading courses.
IFMC courses are a life saver. I don't have money or time to attend classes. My goal is to become a professional stock trader. Thanks to the stock trading course, I'm close to my goal. I believe in learning for lifelong. IFMC is a great way to learn to share trading from NSE certified trainers.
The courses are knowledge bale and are of great help to master the stock market. I only wish to find it sooner. After completing the equity derivatives market course I am a manager to invest in the stock market efficiently and upgrade skills for risk management.
The advanced technical analysis course has to help me with risk management. Indeed practice disciplined trading. Genius stock market training for beginners i've ever enrolled.