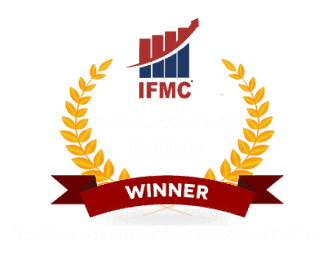 DERIVATIVES
MARKET MODULE
Financial Market Institute in Delhi, Noida & Vaishali
NISM Derivatives Market Module - NISM Series 8
NISM Equity Derivative market module is a one month program. It is an entry-level program for working professionals in the equity derivatives sector. Derivatives are financial security. The underlying instrument is becoming increasingly popular in the world market as a tool for risk management. The Indian derivatives market has been steady over the past few years being an important instrument in financial sector strategy.
Derivates measure the sensitive to undisputedly high especially in hedging against risk. The objective of the derivatives market program is to enable comprehensive knowledge of diverse derivatives products. We'll also cover financial structure in Indian derivatives market and importance to govern them in the Indian securities market. You can better understand the derivatives market when you learn the risk and regulation associated with products. Besides, you will learn the derivatives market exchange mechanism of trading, clearing, and settlement.
Unique Features of NISM Derivative Market Module
Demonstrate an advanced knowledge of Indian equity derivatives market
Extend your knowledge of global trading strategies using derivatives that built using futures and options
Gain an in-depth understanding of clearing, settlement, risk management
Explore operational mechanism to equity derivatives markets
Get actionable knowledge of regulatory environment in which Indian equity derivatives market operate.
Unravel technical complexities to immediately apply to current career progression.
A great add-on course for dealers and stock brokers
Get an entry-level job in stock broking company
It's a industry recognize program, a mandate by SEBI
Practical classes in the live market from faculty with 15 years experience in derivatives market
After completing the Derivatives examination students will get:
IFMC Derivatives Certification
NISM Derivatives Certification
Registration Fees – Rs 1700/-
Program Fee – Rs 1o,ooo/-
Program Duration 1 Month
Plus GST
Note: Examination fee of NSE & SEBI certification is extra as  given
Pay Full or Partial Course Fees
NISM Derivatives Market Module Detailed Curriculum
Module 1: Derivatives Market Introduction and Fundamentals
What is Derivatives Market?
What Are the Types of Derivatives
Derivatives and Equity Market
Evolution of Derivatives Market
Indian Derivatives Market
Significance of Derivatives
Risk in Derivatives Market
Module 2: Quantitative Fundamentals
What is Beta?
What is R-Square?
How to do continuous compounding?
What is a normal distribution?
What is share prices lognormal distribution?
Module 3: Derivatives Market Volatility
Historical Volatility (σ)
ARCH Model
Exponentially Weighted Moving Average (EWMA)
GARCH Model
Implied Volatility
Module 4: Introduction to Forwards
Contracts
Selection Criteria
Stock Selection Criteria
Criteria for Continued Eligibility of Stock
Criteria for Re-inclusion of Excluded Stocks
Index Selection Criteria
Price Steps and Price Bands for Contracts
Quantity Freeze for Futures Contracts
Novation
Margins Daily Mark-to-Market Settlement
Final Settlement
Cost of Carry
Determining Stock Futures Price (without Dividend)
Determining Stock Futures Price (with Dividend)
Determining Index Futures Price (without Dividend)
Determining Index Futures Price (with Dividend)
Cash & Carry Arbitrage
Reverse Cash & Carry Arbitrage
Convergence of Spot & Futures
Contango & Backwardation
Cost of Carry – Commodities
Module 5: Understanding Index
Introduction to Index
Significance and economic purpose of Index
Types of Indices
Attributes of an Index and concept of impact cost
Index management
Major Indices in India
Applications of Index
Module 6: Introduction to Options and Trading Stratgies
Basics of options
Payoff Charts for Options
Basics of options pricing and option Greeks
Fundamentals of options pricing
Overview of Binomial and Black-Scholes option pricing models
Basics of Option Greeks
Uses of Options
Option spreads and their payoff charts
Straddle: market view and payoff charts
Strangle: market view and payoff charts
Covered Call: market view and payoff charts
Protective Put: market view and payoff charts
Collar: market view and payoff charts
Butterfly spread: market view and payoff charts
Module 7: Introduction to Clearing and Settlement system
Clearing Members, their role and eligibility norms
Clearing Mechanism and computation of open positions
Settlement Mechanism for stock and index futures and options
Understanding margining and mark to market under SPAN
Risk Management features and position limits
Module 8: Regulatory Frame Work
Objective of Regulation
Regulation of Exchanges
Eligibility for derivative trading
Regulatory control on contracts
Risk Management at Clearing
Different aspects of risks
Market Manipulation
Module 9: Accounting of Derivatives
Accounting of Futures and Options contracts
Taxation of Derivative transaction in securities
Who Can Take Derivatives Market Course?
IFMC Institute derivatives market course is recognize internationally. The derivatives certification endorse individuals and corporate clientele as a validation of knowledge and skills require to enter and progress in a career that employs derivatives such as
Equity Dealers
Stock Brokers
Portfolio Manager
Research Analyst
Compliance Managers
Risk Manager
Treasury Executive
Equity Dealer: Work in a stock broking company to advise clients
Derivative Analyst: Work in financial institution to study historical data, analyze current and past trends. Also, predict the future market.
Risk Managers: Analyze risk mitigation by hedging position to protect against risk.
Derivatives Traders: Trade actual instrument with the means of making bids.
Admission Criteria and Eligibility:
The candidate should Minimum 12th (Senior Secondary) pass from any reorganization Board/institutions. We always recommend the candidate should pass at least bachelor degree so that it will be the bit easier to provide placements. Graduate students get job placement on the direct payroll in big companies, and 12th students will get placement in small companies or in sub-brokers office.
*placement guarantee refers to (After getting NCFM and NISM Certification of all 10 modules covered in adv. diploma course).
All original documents-10th,12th graduation, other professional degree certification and mark sheets must be submitted as a self-attested copy/copies at the branch at the time of admission and originals must be shown to the center In Charge, failing which admission may be cancelled.
95% attendence is must during the programme in each module opted by the student.
Remarks /Recommendation of faculty and center Head will be taken in the record after each class.
Your certification depends on your Attendance, class assessment, projects, internal exams, NSE exams, Practical classes, Projects and Viva.
The decision of Center in Charge and center Head will be final.