IFMC Institute Noida Branch
Metros cities and mini metro cities have a seen a sharp increase in Traders and investors and now almost every person holds an asset in stock market in one form or the other. However,still for many stock market is still confusing . IFMC has simplified stock market so much that now it's students vary from 18 years to 60 years . Across all genders and all age groups ,IFMC is a choice for learners ,whether they are students ,Graduates ,undergraduates ,working professionals, BPO ,call center people ,shopkeepers, Doctors, CA, Computer professional ,housewives, the list is endless. With brimming opportunities in stock market for traders, investors and professionals IFMC is one stop destination for complete stock market knowledge.
USP OF IFMC® INSTITUTE DELHI
IFMC ® is ISO Certified Stock Market Institute
IFMC ® is Pioneer & has a monopoly on Stock Market Courses.
IFMC ® is the only Institute having its own copy write Trading Strategies UDTS ©️ & M.A.D.E. ©️
IFMC ® has its own Softwares & Learning Screeners for Intraday, Positional, long positional and Investments that makes learning more easier.
IFMC ®️ has its own book UDTS ©️ Intraday Trading Brahamastra - A comprehensive guide for all beginners, traders & investors.
IFMC ® has a belief of 12 Million plus learners associated with IFMC ®
Best Reviews on YouTube and social media (Reviews in lakhs).
Practical training in Live Market.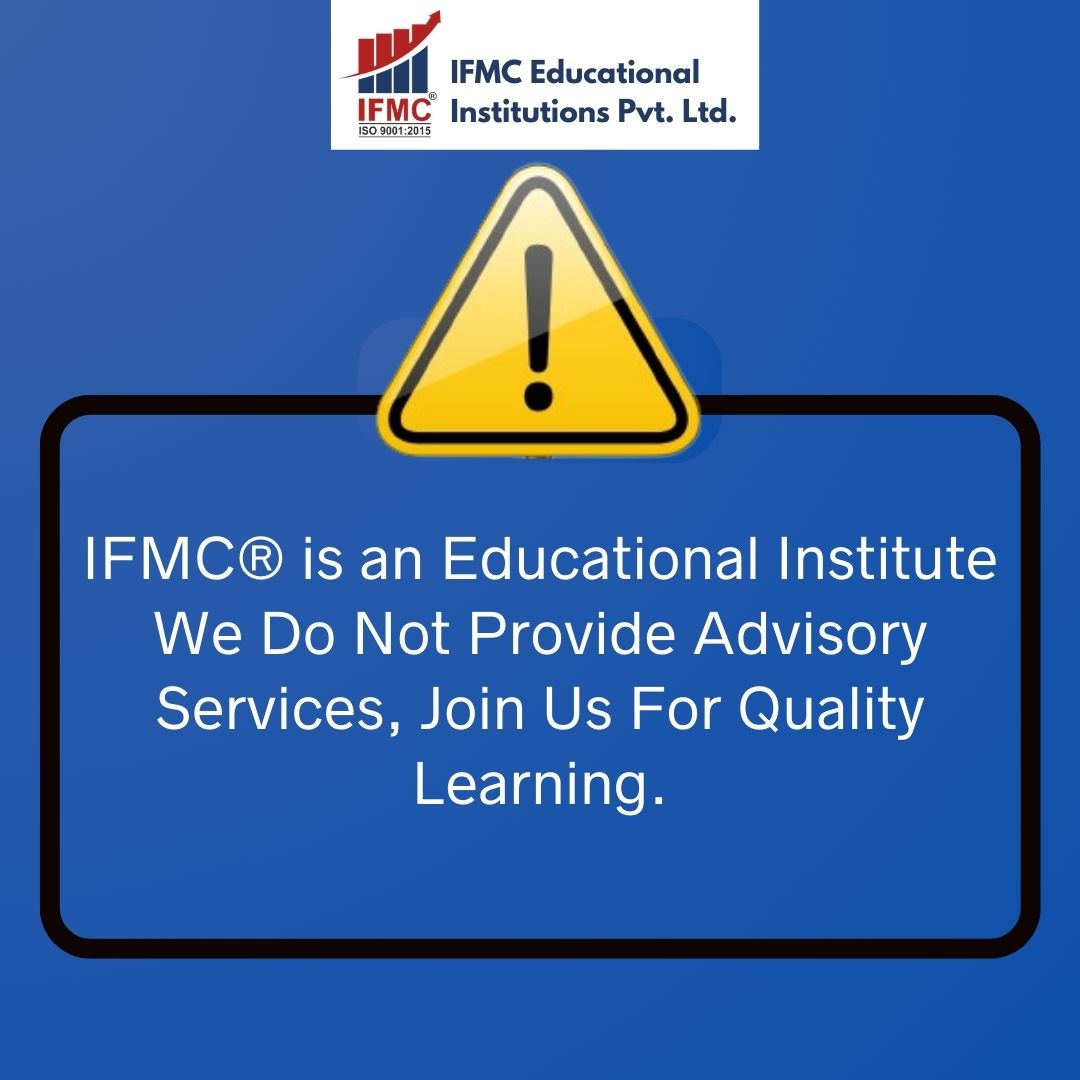 LEARNING TOOLS AND RESOURCES


UDTS© Intraday
Trading Brahmastra
- BOOK

UDTS ©
INTRADAY LEARNING SCREENER


UDTS © - VSM
THE FUNDAMENTAL LEARNING SCREENER


FREE STOCK MARKET
LEARNING


FINANCIAL LITERACY PROGRAMME FOR SCHOOLS
MOCK TEST-PRACTICE QUESTIONS PAPPERS FOR NSE, SEBI, NISM, NCFM CERTIFICATION
Why is UDTS So Popular Amongst Stock Market Traders?
UDTS Best Intraday Trading Course
IFMC ONLINE & CLASSROOM STOCK MARKET INSTITUTE IS BENEFITING
Weekly Prediction
25 - Sep - 2023 to 30 - Sep - 2023
IFMC Institute Noida is a premier stock market training centre in Noida Sector 16. The institute offers share market training to prepare students for an upcoming sector.
Our Stock market classes in Noida, Uttar Pradesh is known for job-oriented knowledge enriched programs in share market course. The Noida centre provides world-class infrastructure for dynamic learning for share trading. The classrooms equip air-conditioner, multimedia, audio-visual equipment, and ultra-modern computer lab to promote learning.
The best place to learn Stock Market, Advance Financial Market, Technical Analysis, Fundamental Analysis, Equity Derivation, Options Strategies, Currency Market, Capital Market, and Commodity Market. Also, students can acquire certification in NSE, BSE, NCFM, NISM, and Mutual Fund Distributor. Who should join this course? Suitable candidates who want to make a career in the stock market.  Whereas investors or traders looking for a formal education can enroll for UDTS course. Uni-Directional Trade Strategies (UDTS) is a globally recognized course for traders who want to master to trade successfully. Apart from providing world-class training IFMC is also known for imparting placement support.
Feel free to get in touch using the form below or call us anytime. We'd love to assist you to make your share market learning experience enjoyable. We care about your privacy. Your details are secure with us.
Please be patient while waiting for the response.
For General Inquiries: +91-987-051-0511
Sector 3, Near Sector-15 Metro Station India,
Noida 201301 – Uttar Pradesh