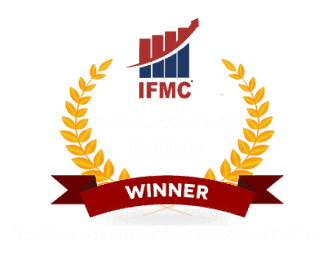 RESEARCH ANALYST SEBI, NISM XV SERIES-Preparation
Stock Market Research Analyst Institute in Delhi, Noida & Vaishali
Research Analyst SEBI, NISM XV Series-Preparation
IFMC Research Analyst Preparation module helps students in clearing SEBI NISM XV SERIES to become certified Research Analyst. It is an important position in a financial institution and to work in this sector, one must clear Research Analyst SEBI NISM XV SERIES certification. This exam is compulsory for all those going for financial advice, or tips through any means an individual, SMS, website, t.v, radio, newspaper, or any other mode. This exam is a highly valued program and one can stand apart from the crowd.
Even those students who have done MBA in Finance, Marketing, and even HR or any other field can do Specialization in the share market which is the most upcoming sector of the financial market.
Learn More:  Difference Between NICM & NISM Certificates
IFMC provides easy understanding lectures to clear SEBI NISM XV SERIES certification. It is mandatory for all those who wish to give tips, calls & advisory.
A complete blend of theory + practicals.
Faculty with years of experience in teaching and trading.
Practice on the live market.
Learn to generate calls and tips.
Become 100% confident in trading in stock markets.
5-tier exposure Faculty, Practical Faculty, Older investor and Trader, Research Team, group discussion.
Practical Classes daily with peer learning group under the mentorship of senior traders.
Access to IFMC WATSAPP group

  

Access to IFMC learning software for trading (UDTS-IS) and fundamental software (UDTS-VSM)
Preparation for NISM research analysis xv series certification.
IFMC certification after preparation of research analyst module.
Students can pursue a career as a research analyst, research advisory, and fundamental analyst in financial services, broking houses, research houses, fund management companies, and portfolio management companies.
Registration Fees – Rs 1700/-
Program Fee – Rs 18,000/-
Program Duration 1 month
Plus GST
Pay Full or Partial Course Fees
DETAIL CURRICULUM
Research Analyst Preparation for SEBI NISM XV Series Certification Module
Overview on NSE BSE MCX etc.
Understanding Income statements
Balance sheet Analysis
Cash flow Analysis
Brief on various software
How do capital Markets work worldwide
Fundamental vs Technical Analysis
Top-down and Bottom-up Approach
Macro & Micro Aspects in relation to stock markets
Markets affect by IIP, Inflation, PMI, Monetary Policy etc.
Regression Analysis & Anova distribution
Correlation & Covariance Analysis
Financial terminology such as Buyback, Bonus, Corporate Actions etc.
Quarterly Results Analysis
Annual Reports Analysis
Management Discussion
Directors Reports
How to read Company Annual Report & DRHP
NPV & IRR Rules
HPR & HPY
Statistical concepts & Market Returns
Demand Supply & Elasticity Concepts
Comparative Analysis.
IPO Analysis
Stock Portfolio model.
Descriptive Statistics Models.
Understanding Standard Deviation & Variance
Understanding CAL, SML & CML equations.
Markowitz Modern portfolio model.
Skewness, Kurtosis & Range.
Net Asset Value Analysis.
Canslim Model by William J. O'Neil
Relative & Comps Techniques.
Dividend Discount Model.
Ratio Analysis e.g.ICR, Debt Equity, Pat margin, Debtors equity etc
Step Wise Dupoint Analysis
Sharpe &Treynor Ratio, Alpha & Beta Analysis
PE, EPS, ROI, ROA Analysis
Capital Budgeting & Cost of Capital
Capital Asset Pricing Model
Weak form, semi-strong form, and strong form market efficiency
Company Analysis – Qualitative Dimensions
Company Analysis – Quantitative Dimensions
Banking Sector Terminology
Mutual Fund Analysis.
Basic Use of Excel & Techniques.
Qualities of a good Research Report
Time value of Money
Forecasting Techniques.
Revenue Builders.
Building the asset and depreciation schedule.
Building P&L & Balance sheet.
Building Assumptions & Debt Schedule.
Understanding FCFF, FCFI.
Building Capex Schedule.
Decoding Ke, Kd&Kp with WACC.
CAPM and its understanding.
EV/EBIDTA & SOTP• Understanding Concepts
Understanding Calculators
Basics Of Derivatives
Forwards & Futures
Put-Call Parity
Basic Hedging strategies for Analysts
Live & Desk Cases on companies
Knowledge sessions on undervalued & overvalued stocks
Understanding Analyst Presentations
Review on current Macro & Microtrends.
Review on Global trends like Eurozone crisis, Oil crisis, and IT visa issues etc.
Sessions will be including a mid-term and an end term examination.
 Who Should Do RESEARCH ANALYST SEBI NISM XV SERIES?
Student who wish to become a research analyst.
Any person who wish to give tips/calls in the market.
Anyone who wishes to open an advisory or research firm.
SEBI RESEARCH ANALYST NISM XV SERIES certification is Mandatory
Candidates can become research analyst, equity analyst, stock market analyst.
Admission Criteria and Eligibility:
The candidate should Minimum 12th (Senior Secondary) pass from any reorganization Board/institutions. We always recommend the candidate should pass at least bachelor degree so that it will be bit easier to provide placements. Graduate students get job placement on the direct payroll in big companies, and 12th students will get placement in small companies or in sub-brokers office.
*placement guarantee refers to (After getting NCFM and NISM Certification of all 10 modules covered in adv. diploma course).
All original documents-10th,12th graduation, other professional degree certification and mark sheets must be submitted in as a self-attested copy/copies at the branch at the time of admission and originals must be shown to the center In Charge, failing which admission may be cancelled.
95% attendence is must during the programme in each module opted by the student.
Remarks /Recommendation of faculty and center Head will be taken in the record after each class.
Your certification depends on your Attendance, class assessment, projects, internal exams, NSE exams, Practical classes, Projects and Viva.
The decision of Center in Charge and center Head will be final.