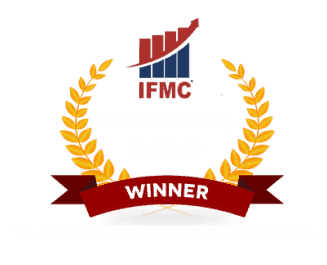 Best Stock Market Training Institute in Delhi NCR for Financial Market Courses
IFMC Institute
– is registered in the name of "
Institute of Financial Market Courses
". IFMC – Is Your Ladder to Financial Success.
IFMC Institute 
is a registered brand under
IFMC Educational Institutions Private Limited
. The institute is is a ISO 9001:2015 certified company with a high benchmark of quality in stock market education
IFMC is committed to produce
Stock Market Analysis, Equity Analyst
/
Research Analyst
and professionals for this upcoming sector. 
IFMC is narrowing the gap between industry demand and supply for professionals. IFMC is creating almost
400 plus professionals per year
but as per demand, it is too low.
The promoters are in this business since 1995 and have a vast experience of 21 years in the financial industry. IFMC is No 1 Institute of banking / insurance and financial markets. IFMC is the pioneer in the quality education of
Stock Markets
in India. We provide complete in-depth knowledge in all segments of the
financial markets
, like
share market, capital market, derivative market, commodity markets, currency/Forex market, mutual fund, and insurance sectors
.
IFMC is recognized as "Excellence in Financial Market Courses 2018" by Delhi City Icon Awards for its best selling
Unidirectional Trade Strategy
(UDTS) stock market course.
IFMC has tie ups with various hostels ,mess in nearby areas of institute .These hostels have all the facility of stay ,laundry ,mess and are safe and conveniently located.You can get in touch with Centre Heads for details. IFMC is also into vocational training institutions, Medical college, Engineering and B.Ed college with long term and short term job oriented skill development courses with offline and online classes. 
IFMC is also providing e-learning platform (online stock market courses).
We are pioneers in introducing short-term job oriented diploma programs with main emphases on live market practicals and placing our students on different posts like Research analyst, dealers, arbitrageurs, managers etc. IFMC also provides short term job oriented courses in share market, stock market capital market, commodity market, currency or forex market, /derivative market (future and options) and options strategy. 
IFMC also offers certificate courses for technical analysis, fundamental analysis, research analyst, NSE, BSE, NCFM, NISM, BCSM MCX NCDEX, MCKSX MODULES PREPARATION AND CERTIFICATION, CDSL NSDL DP MODULE Preparation, risk management etc. Has a vast client base of student and trader 3500 plus and growing each day. IFMC has best faculty and infrastructure with world-class lab and experienced faculties.
Our all branches are equipped with
Live trading terminals
Library facilities
Seminar and Conference Halls with world-class technology
Conveniently located on the prime location in Delhi NCR including Lajpat Nagar, Laxmi Nagar, North Campus, Vaishali (Ghaziabad), and Noida near metro station with superb connectivity in the prime locations, make it the best institute for Stock Market Courses in Delhi NCR / EUP/ WUP. 
IFMC has set a benchmark in stock market education and is the best-rated institute in India. Under the able guidance of our Senior Research analyst, Mr Manish Taneja IFMC has won awards and IFMC YouTube channel has above 9 million viewers and above 1 lac subscribers. IFMC YouTube channel has already won YouTube silver play button and is growing day by day. IFMC has huge fan following on YouTube.
Become a part of growing, paying, and white-collar job industry by joining the job-oriented programmes at IFMC. IFMC provides short term job-oriented courses in share market, stock market, capital market, commodity market, currency or forex market, / derivative market (future and options) and option strategy to make a career in the stock market after graduation and 12 th pass students. Also, you can find out which diploma, degree and certifications in stock market can help you in becoming best trader or investor or even you can get good jobs in stock market domain.
IFMC also offers certificate courses for technical analysis, fundamental analysis, research analyst, MODULES PREPARATION AND CERTIFICATION, CDSL, NSDL, DP, MODULES preparation, risk management etc. All our classroom courses and Online courses are in Hindi Language and very easy to understand.
IFMC INSTITUTE DELHI PROVIDES-STOCK MARKET COURSES, SHARE TRADING COURSES, STOCK MARKET TRAINING, LEARN STOCK TRADING, ONLINE COURSES, BEST ONLINE STOCK TRADING
COURSES, INTRADAY TRADING FOR BEGINNERS, SHARE MARKET TRAINING, SHARE MARKET COURSES, STOCK TRADING COURSES.
IFMC DELHI provides INTERNSHIP to its students by making them well versed with the online software during course tenure. IFMC has best faculties, professors, teachers, practical labs, placements, NSE examination preparation for all semesters.
IFMC PLACEMENTS- Our clients-Reliance money, Kotak securities, Motilal Oswal, IIFL, sharekhan, HDFC Securities, Anand Rathi, Bonanza Portfolio, Geojit BNP Paribas hires for the post of Equity Dealers, Relationship managers, Wealth managers, Research Analyst, Arbitragers, Financial Planners, Advisors, Business Development Managers, Technical Analyst, Fundamental Analyst, Sub brokers Etc.
IFMC covers complete syllabus and curriculum of, NSE, BSE, NCFM, NISM AND SEBI courses.
You can well understand NIFTY, SENSEX, INDEX, debenture, bonds, stop loss, stock price, IPO etc after the course. Students come to IFMC Delhi, from all parts of India to learn complete Stock market courses.
For admission enquiry contact at -9870510511,9810216889
"First Learn and then Earn" – Is Our Motto 
As per NSE till 2020 there will be one crore plus jobs in financial industry govt too has identified this upcoming FINANCIAL SECTOR in its 21 employability skill programmes. There is a huge gap in demand and supply of skilled professionals in this field. IFMC was started with a major mission to create certified STOCK MARKET PROFESSIONAL AND STOCK MARKET ANALYSTS to fill the gap of skilled people in the financial industry.
IFMC visualizes great potential and huge vacancies in the financial market sector in years to come. As Indian economy is growing rapidly resulting in a lot of demand for trained and qualified financial market professionals. Much more banking licenses are awaiting in years to come and demonetization has added fuel to the fire.
Today students are wandering for good, respectable and paying jobs. Somewhere there is not adequate salary and sometimes there is no job satisfaction. In such case, students get persuaded to do different courses after graduation. Still, they don't get jobs as per there need. Moreover, they do not get proper mentoring and guidance  over their Career path and growth. Till 2005 basic graduation was enough to get a good job but not in 2016.
Today the need of hour has changed. So don't go along with the mob and do something different. Today we will talk about a sector that that not only gives you a stable paying and respectable job but also gives you an opportunity to start your own business. The name of this upcoming sector is STOCK MARKET/financial markets
Earlier small brokers were in business but now they have been replaced by bigger corporate like RELIANCE/TATA/HDFC/ICICI/PSU and Pvt banks. And by this hiring in this sector has risen to many folds.due to the scarcity of skilled professionals Banks and big corporates are forced to recruit simple graduates and they giving them training on there own. Students can join this professional course after graduation (any stream) and secure their career in Financial market /Banks. Opportunity to kick-starting this career at the very early stage can take them to great heights of career. This field has less competition and best placement and best career growths.
National stock exchange  (Govt. body) conducts exams with an aim to skill the students under NCFM and NISM (GOVT. bodies) and give the certificate and only certified persons get the job in FINANCIAL SECTOR, SHARE MARKET, STOCK MARKET, BANKS, INSURANCE AND MUTUAL FUND AND AMC. The certifications are added advantage to students doing CA/CS, ICWA OPTING FOR NSE EXAMS to make career in the financial markets. Students opt for NSE exams because this is important for there career growth also.