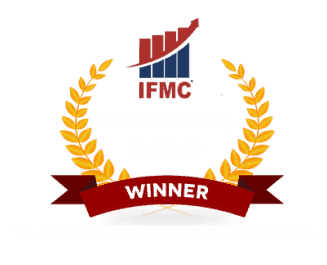 OPTIONS STRATEGIES COURSE
Options Trading Institute in Delhi, Noida & Vaishali
Options Strategies Course

Option strategy course is an important module which is of interest to trades, investors, student and anyone interested in the option market. It is advisable to have a good knowledge about basics of option or clear the NCFM DERIVATIVES MODULE before taking up this module.
Option can be used for hedging, taking a view on the future directions of the market or for arbitrage. Option is also helpful for implementing various trading strategies such as straddle, strangle, butterfly, color etc which can help in generating income for investors under various market condition.
This market is a valuable addition which aids in understanding various option strategies.
Unique Feature of Option Trading course
Highly recommended program for investors and traders.
Learn how to use future and option strategy for hedging.
One can make strategies for bullish & bearish market.
Can earn with limited amount of money.
Faculty with 15-years experience in teaching & trading.
Practice in live markets.
A complete blend of theory + practicals.
Become 100% confident to trade & Earn.
Workshops and other programmes and meet with industry experts.
5 tier exposure Faculty, Practical Faculty, Older investor and Trader, Research Team, group discussion, Reliance Securities
What Will You Get?
NCFM Option strategy Certifications
IFMC Certification- Option strategy Certifications
Job Opportunities
Students can pursue a career as an arbitrager, jobber, or trader. You can join broking houses as options expert.
Certifications
1 CERTIFICATES OF NCFM MODULES
1   IFMC Certification- Option strategy Certifications 
*NCFM and NISM Certificates are subjected to appearance for the exam at the NSE Center. You get 100% preparation at the branch
Note: Examination fee of NSE & SEBI certification is extra as given
Registration Fees – Rs 1700/-
Program Fee – Rs 15000/-
Program Duration 1 month
Plus GST
Pay Full or Partial Course Fees
DETAIL CURRICULUM
Module Option Strategy (NCFM Certification)
INTRODUCTION TO OPTIONS
OPTION TERMINOLOGY
OPTIONS PAYOFFS
PAYOFF PROFILE OF BUYER OF ASSET: LONG ASSET
PAYOFF PROFILE FOR SELLER OF ASSET: SHORT ASSET
PAYOFF PROFILE FOR BUYER OF CALL OPTIONS: LONG CALL
PAYOFF PROFILE FOR WRITER (SELLER) OF CALL OPTIONS: SHORT CALL
PAYOFF PROFILE FOR BUYER OF PUT OPTIONS: LONG PUT
PAYOFF PROFILE FOR WRITER (SELLER) OF PUT OPTIONS: SHORT PUT
STRATEGIES
LONG CALL
SHORT CALL
SYNTHETIC LONG CALL
LONG PUT
SHORT PUT
COVERED CALL
LONG COMBO
PROTECTIVE CALL
COVERED PUT
LONG STRADDLE
SHORT STRADDLE
LONG STRANGLE
SHORT STRANGLE
COLLAR
BULL CALL SPREAD STRATEGY
BULL PUT SPREAD STRATEGY
BEAR CALL SPREAD STRATEGY
BEAR PUT SPREAD STRATEGY
LONG CALL BUTTERFLY
SHORT CALL BUTTERFLY
LONG CALL CONDOR
SHORT CALL CONDOR
Who Should Do This Course?
Investors ,traders,Arbitragers,Portfolio Managers
Researchers, Investment Consultant
Those who want to upgrade themselves in Financial Industry, Share Market, Brooking Industry
Career Opportunity
Jobbers, Traders, Portfolio Managers, Dealer desk profile specializing in options. Anyone who wishes to join or upgrade for Financial, Share Market Industry
Admission Criteria and Eligibility:
The candidate should Minimum 12th (Senior Secondary) pass from any reorganization Board/institutions. We always recommend the candidate should pass at least bachelor degree so that it will be a bit easier to provide placements. Graduate students get job placement on the direct payroll in big companies, and 12th students will get placement in small companies or in sub-brokers office.
*placement guarantee refers to (After getting NCFM and NISM Certification of all 10 modules covered in adv. diploma course).
All original documents-10th,12th graduation, other professional degree certification and mark sheets must be submitted in as a self-attested copy/copies at the branch at the time of admission and originals must be shown to the center In Charge, failing which admission may be cancelled
95%attendence is must during the programme in each module opted by the student.
Remarks /Recommendation of faculty and center Head will be taken in the record after each class.
Your certification depends on your Attendance, class assessment, projects, internal exams, NSE exams, Practical classes, Projects and Viva.
The decision of Center in Charge and center Head will be final.
Faculty
Ambience
Practical Training