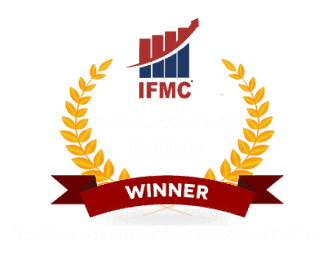 STOCK MARKET COURSE FOR BEGINNERS
Stock Investment Educational Institute in Delhi & NCR
One Month Stock Market Course For Beginners - A Complete Stock Market Investing Training Class in Delhi

In this series of stock market courses we will talk about Share Market Course For Beginners, It is a one month programme on investing and trading basics, it is specially designed for all students and professionals in the financial markets who wish to specialize in stock trading (Self Trading learn about market basics, day trading tips and technical analysis in our blog section) and wealth creation within the stock markets. This 100% skill-oriented and self-trading course in the Share market and is one of its programmes for all those who wish to do specialization in stock trading, equity markets, equity derivative, currency & commodity market trading.
IFMC Certified Share Market Course for Beginners is a short-term course with 100% Self-trading programme. Everyone has a keen interest in Share Trading / Stock Trading but stock trading in this can be tricky, so one must learn the basics before entering in the online stock marketing. The module is based on theory as well as practical on stock trading. The course includes capital, derivatives, options, commodity, and currency markets.
Share Market course for beginner is specially developed for the beginners and freshers who want to learn how to trade stocks through stock exchanges and understand share market basics, how online stock works, how to invest in share market, future and option markets, commodity market and currency / Forex market, what are the dos and don'ts for investors and traders in the stock market trading, what rules they have to follow while trading in the stock market, how to trade stocks etc can learn stock trading course by IFMC – best institute for stock market courses.
Unique Feature of Stock Market Course for Beginners
100% self stock trading course
The program provides a basic introduction to the financial market, share market, commodity market and Forex market
A complete and comprehensive programme for all those who wish to specialize in self-trading
A great add-on courses along with Graduation, MBA
Based on theory as well as practical for complete knowledge
You enter the industry completely trained and fit
Faculty with 15 years of experience in Teaching and trading
Practice on Live Markets
Workshops and other programmes on stock trading courses.
One of the stock trading courses to become 100% confident to trade and earn
5 tier exposure knowledge content Faculty, Practical Faculty, Older Investor and Trader, Research Team, Group discussion, Reliance Securities
Community platform: student can participate in our YouTube discussion forums, learn stock market basics with 10 plus million views and knowledge bank with weekly TASK (Taiyari agle saptah ki) video with senior research analyst Mr. Manish Taneja of IFMC Institute

Email query support on course contains

IFMC is an educational institute and we do not provide any stock market tips join us for quality learning
What the Student Will Get?
Theory & Practical Training with case studies that helps in financial planning
Hard copy study material (content developed by Industry experts having more than 8-10 years of experience in Financial Market
Smart Investor certification (Provide by IFMC)
Rules and regulations for investors and traders
Doubt clearance session in every class
Some of the job prospects after this course are stock traders, stock broker, securities sales agent, financial agents, personal financial analyst, and financial analyst.
Registration Fees – Rs 1700/-
Program Fee – Rs 10,000/-
Program Duration 1 Months
Plus GST
Pay Full or Partial Course Fees
COURSE MATERIALS & DETAILED CURRICULUM CONTENT
Stock Market Courses >> Stock Market Course for Beginners 
Module 1: Capital Markets & its Operation
Basic knowledge of capital market (Primary Market & secondary Market)
Major Market Participants
Major exchanges and indices
Legal Framework and regulations
Trading and Trading Membership
Clearing and Settlement Process
Fundamental Valuation concepts Glimpse of various trading style and software (ODIN, NEAT, NOW) Practical training of market operations
Practical Classes daily from 10.00 am – 03.30 pm (live trading and methodology and market terminologies)
Online Mock Test (500 Question & answer test series) of NCFM Capital market module
Module 2: Derivatives Market & its Operations
Introduction to Derivatives, Type of derivative contracts
Understanding of future, forward, option and SWAP
Future contracts, Mechanism & pricing of Forward contracts
Understanding of Options and it's (call & put)
Trading, Clearing and Settlement, Risk Management in Derivatives
Regulatory Frame Work
Accounting of Derivatives
Practical Classes of 10 hours (live trading and methodology (Futures & Options)
Online Mock test (1000 Question & answer test series) of NISM Derivative market module
Module 3: Commodity Market
Understanding Commodity Market
Live Trading in Commodities- MCX and NCDEX
International commodity Vs Domestic Commodity
Module 4: Currency Market
Currency Derivative and its History
Forward, Future and Options of currency derivative
Trading, clearing, settlement & Risk Management of currency futures
Different Strategy Use for Currency Derivative Trading
Live Trading practices (2 Hours) in currency derivative segment
Online Mock test (800 Question & answer test series) of NISM Series1
Who Should Do This Course?
MBA & BBA/CA/CS/CPT Students
10+2, BA. B.com. B.Sc. Pursuing Students
Traders, retail traders and investors
Financial service professionals
After completing IFMC certified SMB course one can pursue his/her stock market career in Indian and International Markets, Finance Markets and in different departments by giving exams at NSE. They can trade with 100% confidence in the market as they know all the 4 markets and know how they are interlinked
Admission Criteria and Eligibility:
The candidate should Minimum 12th (Senior Secondary) pass from any reorganization Board/institutions. We always recommend the candidate should pass at least bachelor degree so that it will be bit easier to provide placements. Graduate students get job placement on the direct payroll in big companies, and 12th students will get placement in small companies or in sub-brokers office.
*placement guarantee refers to (After getting NCFM and NISM Certification of all 10 modules covered in adv. diploma course)
All original documents-10th, 12th graduation, other professional degree certification and mark sheets must be submitted in as a self-attested copy/copies at the branch at the time of admission and originals must be shown to the center In Charge, failing which admission may be cancelled
95% attendence is must during the programme in each module opted by the student.
Remarks /Recommendation of faculty and center Head will be taken in the record after each class
Your certification depends on your Attendance, class assessment, projects, internal exams, NSE exams, Practical classes, Projects and Viva
The decision of Center in Charge and center Head will be final.
What after SMB?
Technical Analysis Course
Explore:
Online Stock Market Course for Beginners | Stock Market Courses Delhi