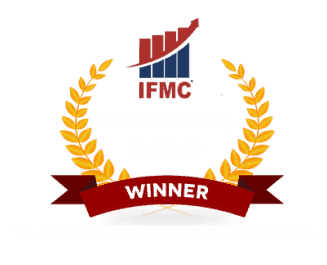 Advance Stock Trading Strategy
MADE COMBO-Advance Stock Trading Strategy with a combination of Basic Technical & Fundamental Analysis. Share market beginners course to make you an expert.
MADE™
Combo Course
By IFMC® Institute
6300/-
₨
( Inclusive of GST)
Duration : - 9 Month

Language : - Hindi

Certification : - Yes
Introduction

Course Outline

Target Audience

Requirements

Demo
What is MADE™ Combo Course?
MADE COMBO an innovative course by IFMC which has two advance stock trading strategies UDTS & MADE.
MADE combo is one of the best combinations and is definitely one it's kind in the Stock market courses. This combo of MADE and UDTS will benefit Beginners, Trader and all those who are trading and investing in the stock market in one form or the other.
In this course, you will learn how to become a smart day trader using a simplistic yet advanced stock trading strategy. Where profits are huge and stop-loss is minimal. Learn from experts on how to predict the stock market by analysing data, news, and events. Also how to merge market sentiments data with technical indicators - resistance and indicators to predict winning trades.
This combo will teach both how to predict the direction of the stock and the directional of the market. The dual benefit course. MADE Combo – A step towards accuracy
Learn the Language of Market – MADE STRATEGY
Let's learn How your views become the news of next day in newspapers
In 2018-19 IFMC launched its very own innovative strategy UDTS which brought a revolution in the stock market. UDTS the best and advance stock trading strategy taught a common man how to trade in the stock market with simplicity and accuracy without using cumbersome tools.
World over UDTS brought accolades and laurels for IFMC and gave IFMC its unique identity and made IFMC the leaders and the best institute in STOCK MARKET COURSES. UDTS even brought Awards for IFMC and titled IFMC for "EXCELLENCE IN FINANCIAL MARKET COURSES."
IFMC undoubtedly became the best institute in Stock market courses. Be it students, Investors, Traders, housewives etc. There has been a lot of questioning from Traders and Investors world over that "How to make UDTS more precise"
IFMC – Research Team has been working day and night and finally came to a conclusion that if along with DIRECTION OF STOCK we can predict the DIRECTION OF MARKET then a Trader can have better probabilities to win Moving ahead with the ideology of simplicity and innovation IFMC has launched a new course MADE – "MARKET ANALYSIS BY DATA AND EVENT".
What is MADE™?
MADE-"MARKET ANALYSIS BY DATA AND EVENT" is yet another innovative model of IFMC. After UDTS, MADE is going to turn heads and is again going to make a dent in the stock market.
MADE model of IFMC is yet again an innovation of our Sr. Research Manish Taneja. MADE has made easy to Learn the Language of Market and analyzing it Using Data and Event. MADE is the next step in learning to trade with simplicity in the stock market. All those who have purchased UDTS can upgrade themselves to MADE.
MADE -"MARKET ANALYSIS BY DATA & EVENT
Stock Market does not operate in any vacuum. Stock Market runs under lot of driving force that makes the market move either bullish or bearish. These driving forces can be International or Domestic. If we understand these driving forces then it will not be difficult to predict the market.
In order to understand the driving forces, we must understand the Language of market. The market gives us lot of clues but we can understand these clues if we understand the language of market.
What is the Language of Market?
MADE. teaches you to decode the language of the market and once you understand the language in which market talks then it will be very easy for you to understand the market and you will be able to act in accordance to that. Let's understand what DATA and numbers say to us. What is the effect of various events on the market and how the market reacts to uncertainties that move NIFTY or Sensex UP or down? The reasons for gap up or gap down opening will also be clear.
DAVID BUCKINGHAM -Ref quote
Data is the new OIL, We need to
FIND IT
EXTRACT IT
REFINE IT
and MONETISE IT
DATA—-KNOWLEDGE—-ACTION —-MONEY
Let's Learn the language of the market through IFMC's Innovative course
MADE -"MARKET ANALYSIS BY DATA AND EVENT"
MADE is another copywrite content of IFMC, which helps you to learn the language of the market and also enables you to predict the direction of the market.
There are 2 parameters to trade in the market. One is technical aspect and another is a fundamental aspect.
In MADE we study with simplicity the fundamental aspect of trading.
Let Us See How MADE Works
MADE. model is based on the same principle of UDTS. As in UDTS, all technical aspect should be in one direction. Similarly in MADE. Model all DATA and EVENTS should be benefited in the same direction. All those who find fundamental analysis too cumbersome to understand, after going through MADE. you will be able to analyze DATA and market with ease.
Like all our other lectures of Mr.Manish Taneja MADE is another jewel in the crown of IFMC after UDTS.
Outcome of the Course MADE
You will be able to read data and you will be able to relate result and news to market. A good trader is one who can relate data to country, sector industry and then stock.
After understanding MADE
You can well figure out overall market feature and you will be able to relate Data and news with the market and understand its effect on the market. After completing MADE. YOU WILL BE ABLE TO PREDICT THE DIRECTION OF THE MARKET.
Let's see how?
Just as our UDTS Model, We are using the same principal for MADE. In UDTS all direction or trends should be in one direction, same way in order to understand MADE, all New/Event/Data is to be a benefit in same direction for
Country
Sector
Industry
Stock Own Fundamentals
Technical Outlook with UDTS
WE WILL LEARN THIS IN A SIMPLIFIED MANNER IN OUR ONLINE CLASS OF MADE
MADE -"MARKET ANALYSIS BY DATA AND EVENT"
MADE is the best program for all those who wish to make a more accurate prediction of market and stocks simultaneously. MADE gives you a more accurate forecast of the market with the new analysis and Data analysis. Both News Analysis and Data Analysis and Event Analysis are part of Fundamental analysis.
Knowing where the Stock Market is going and predicting the stock market direction is most desirable by any professional trader. In order to win in the stock market and be profitable in stock market trading. MADE gives the best market outlook to trade confidently and to predict the market successfully.
Whether you are trading in the capital market, derivative markets, MCX trading, commodity, currency, forex, Crude, Gold trading being knowledgable is must to trade in the market.
There are certain cumbersome terms like inflation, GDP, Rate cut, CPI numbers, OPEC announcements, oil inventory, etc which is difficult to understand. Learn about Indian economy, its direction, Data based trading, news-based trading, how to read Data to be an "Xperto Trader".
Uni-Directional Trade Strategies ©
People enter the stock market and trade without any formal knowledge. Lack of professional guidance results in losing money. It is intimating process for stock market beginners as they are not aware of the Stock market Technical and Fundamental Aspects.
IFMC – The Best Stock Market Institute in Delhi designed an online course for stock market trading named UDTS. A common man who don't know the complexities of stock trading or is a beginner in the stock market, they find it difficult and cumbersome to understand technical analysis tools.
UDTS is the most simple and smart trading approach to understand stock trading. It is a bunch of Trading Strategies based on Technical analysis to work confidently in the market.
-UDTS is a copyright programme of IFMC
-UDTS is a mechanism of emotionless trading
-UDTS is based on basic market behaviour of demand and supply
-UDTS is liked in over 150 countries because of its simplicity, accuracy and high probability to win stock market trading.
-No Technical Analyst world over can challenge IFMCian's on their intraday trading calls.
UDTS comprises of 9 Stock Trading Strategies for Intraday Trading (Day Trading) and Positional Trading which can be used in all segments like Capital market, Futures, Options, Commodities and Currency markets by Basic +Advance Technical Analysis.
UDTS is created by Mr. Manish Taneja (NISM, NCFM Certified Technical Research Analyst & Investment Advisor)
Learn Advance Stock Trading Strategy
Uni-directional Trade Strategies (UDTS) is a revolutionary trading model based on the application of basic technical analysis. The course explains Intraday and Positional Trading. UDTS strategies are applied in all segments of Capital Market, Futures, Commodity Market, Currency Market and Options Strategies.
Best Online Stock Market Course
After going through UDTS the students will gain an ability to generate your own stock market trading calls by understanding different stock trading strategies online and using the science of technical analysis to win stocks trading.UDTS encompasses conventional technical indicators and combine them in a way to receive the most powerful robust trading strategies including the information about all the topics below:
No.1 Intraday Trading Model – Highest probability to win
Explore the best intraday trading strategy to master different aspects such as intraday charts, candlestick patterns, tricks, indicators working together. Learn the technique to follow the most accurate intraday trading strategy to become a successful intraday trader. UDTS delivers a basic understanding of demand and supply to catch the right trend.
Positional Trading Strategies to Increase Profits
Positional trading strategies allow riding massive trends during the bull & bearish market that beat market volatility. Positional trading is a distinct type of stock trading method to take different positions in stocks to benefit during short term and long term dominant trend. The main feature to learn Positional trading strategy is to increase profits with minimum efforts using UDTS. Positional trading is easier than intraday trading so to start stock trading start with positional trading.
Positional trading has a big stop loss and big targets while intraday trading has smaller stop losses and smaller targets. Beginners should start with positional trading rather than intraday trading.
Single Technical Analysis Guide for Advance Stock Trading Strategy
Day trading strategy is versatile and strenuous to predict stock price. Consequently, day trading is impossible without technical analysis. To become a successful day trader, one must know only 70-80% of basic technical analysis. UDTS course breakdown technical analysis course for beginners to master day trading strategies. Upsurge probability to maximize profits, by learning the best stock market trading strategy using technical analysis in a reliable approach by taking the UDTS course.
Discover the solution to win the stock market with certified technical analyst related to learn stock trading online including advanced study of candle charts, line charts, graphs, pattern, stop loss, technical indicators & tools, trend strategies, support & resistance strategies, momentum strategies, and many more other topics. In addition to the applicability of technical tools in the live market with examples.
What Will You Get?
| | |
| --- | --- |
| Recorded Video | :      38 Videos |
| Total Video Time | :      17:30 Hours approx |
| Language | :       Hindi |
| Books | :      E-Book in PDF (On Demand) |
| Faculty | :      Sr. Faculty Research Analyst Manish Taneja, Mr. Puneet Grover |
One Doubt Session On Each Module * - ( Time Slot Will Be Given As Per Faculty Availability)
Course Fee
Rs 6300/-  ( Inclusive of GST)
Course  validity
9 months
Market Analysis By Data And Event – MADE (™)
M.A.D.E Video 1
⦿ Thought for making MADE Model
M.A.D.E Video 2
⦿ Importance of DATA
⦿ Benefit of MADE Model
⦿ Indexes of World Market
M.A.D.E Video 3
⦿ OPEC Meet Decisions
⦿ Economic Calendar
M.A.D.E Video 4
⦿ Impact of Dollar
⦿ Effect of Central Bank Meetings
⦿ Role of Central Banks
⦿ Key Persons of Central Banks
⦿ Hawkish and Dovish Policy
M.A.D.E Video 5
⦿ Impact of War and Trade War.
M.A.D.E Video 6
⦿ Effect of Terrorism
⦿ Finding Latest News
⦿ Scams and Crisis
⦿ Elections and Political Situations
M.A.D.E Video 7
⦿ US GDP Growth Rate
⦿ US Industrial Production (IIP Numbers)
⦿ US WPI (Wholesale Price Index)
M.A.D.E Video 8
⦿ CPI (Consumer Price Index)
⦿ PPI (Producer Price Index)
⦿ US Unemployment Rate
⦿ ADP NonFarm Employment
M.A.D.E Video 9
⦿ Non Farm Payroll
⦿ US Initial jobless Claims
⦿ US Retail Sales
⦿ US Building Permits
M.A.D.E Video 10
⦿ US Residential Housing Starts
⦿ US New Home Sales
⦿ Consumer Confidence
⦿ Durable Goods Order
⦿ US State Population
⦿ PMI (Purchasing Manager Index)
⦿ Trade Balance
M.A.D.E Video 11
⦿ External Debt
⦿ Forex Reserve
⦿ Gold Reserve
⦿ Tax Rate
⦿ Bond Yield
⦿ GDP Ratio
M.A.D.E Video 12
⦿ Scandals
⦿ Companies with High Debt
M.A.D.E Video 13
⦿ Insider Activity Trading
⦿ Political Factors
⦿ Budget
M.A.D.E Video 14
⦿ RBI Meetings
⦿ RATE CUTS
⦿ CRR Ratios (Cash Reserve Ratio)
⦿ REPO Rate
⦿ Reverse REPO Rate
⦿ GDP (Gross Domestic Product)
⦿ GNP (Gross National Product)
M.A.D.E Video 15
⦿ IIP Numbers (Index of Industrial Production)
⦿ Manufacturing Output
M.A.D.E Video 16
⦿ Auto Sales Numbers
⦿ Bond Rate and Current Yeild
⦿ Dumping Duty
⦿ FII Activity
M.A.D.E Video 17
⦿ Population
⦿ CPI (Consumer Price Index)
⦿ WPI (Wholesale Price Index)
⦿ Forex Reserve
M.A.D.E Video 18
⦿ Fiscal Deficit
⦿ Balance of Trade
⦿ Foreign Debt
M.A.D.E Video 19
⦿ MADE Model Part 1
M.A.D.E Video 20
⦿ MADE Model Part 2
M.A.D.E Video 21
⦿ MADE Model Part 3
M.A.D.E Video 22
⦿ MADE Model Part 4
M.A.D.E Video 23
⦿ MADE Model Part 5
M.A.D.E Video 24
⦿ Live positional trade practical on the basis of MADE Model
Uni-Directional Trade Strategies ©
Lecture 1
How to become successful trader
Difference between investor and trader
Lecture 2
Professional trading is an "art", is a" technique"
Lecture 3
Trading Psychology Part-1
Lecture 4
Trading Psychology Part-1
Lecture 5
Trading Rules.
Lecture 6
Professional Trading.
Lecture 7
Making a Short-term View ( bullish or bearish) Through Technical..
Lecture 8
Uni-Directional trade strategies
I – Intraday trade model (candle)
ii – Long-term positional model (candle)
iii – Positional trade model candle
iv – Short-term positional model candle
v – Long-term positional model line
vi – Positional model line
vii – Short-term positional model line
viii – Intraday model line
ix – Long term wealth creation through technical
UDTS Advance
UTDS Vs Technical Analysis Part 1
UTDS Vs Technical Analysis Part 2
UTDS Vs Technical Analysis Part
Uni-Directional Highlights

■ Candle Chart
■ Line Chart
■ Difference Between Investment & Trading
■ Art of Professional Trading
■ Rules of Stock Market Trading
■ Stock Market Trading View with Data & Event Analysis
■ Technical Analysis vs. UDTS
■ Concept of Stop Loss
■ Gap Up Gap Down Opening
■ Trend Analysis
■ Intraday Trade Model
■ Intraday Trading with Line Charts
■ Intraday Trading with Candle Charts
■ Short Positional on Line Charts
■ Short Positional on Candle Charts
■ Positional Trade Model
■ Positional Trading on Line Chart
■ Positional Trading on Candle Charts
■ Long Positional Trading on Line Chart
■ Long Positional Trading on Candle Charts
■ Daily Trend
■ Weekly Trend
■ Monthly Trend
■ Averaging of Traders
■ Commodity Trading
■ Currency Trading
■ Swing Trading
■ Momentum Trading
■ Long Term Wealth Creation Through Technical
USEFUL FOR
⦿ STUDENTS
⦿ INVESTOR
⦿ TRADERS
⦿ RM's
⦿ DEALERS
⦿ PEOPLE WORKING WITH FINANCIAL INDUSTRY
⦿ TECHNICAL ANALYST
⦿ FUNDAMENTAL ANALYST
Course Requirements
PC, Laptop, I-pad, Tab, Mobile, with 4G internet
Market Analysis By Data And Event
Uni-Directional Trade Strategies
Disclaimer for Online Courses


"Made Combo Course" is copyright content of IFMC. Videos are for educational and information purpose only. Please refer our website for course details. We advise you to understand the strategies well and use your own discretion to use them in live markets. Paper trades initially suggestive.

Trading of Stocks is subject to Market Risk, users use their own discretion to trade in Live Market.

IFMC is not responsible for any Loss or Damages of any kind to the student/client.
MADE™
Combo Course
By IFMC® Institute
6300/-
₨
( Inclusive of GST)
Duration : - 9 Month

Language : - Hindi

Certification : - Yes