Online Stock Market Courses in Delhi 2022
Learn how to trade in share market Delhi by IFMC – certified institute of stock market in Delhi, India. From cool stock trading strategies to money-making technical analysis strategies we got you covered.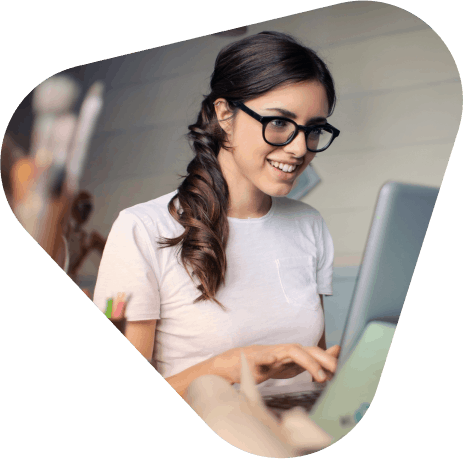 BENEFITS OF STOCK MARKET COURSES
Many people ask – why to take a stock market course? Or What is the benefit of investing in the stock market?
Well, here is your answer.

Improve Your CV
SEBI mandated share market certificate to attain employment. Get your NSE stock market certification from IFMC to allude employers through cornerstone trading skills.

Find a Job
Get access to 10000+ jobs with stock market degree programs. We will mentor you how to get a job as a stock broker, analyst, relationship manager, advisor, and more.

Grow a Career
Learn essential trading strategies to streamline career growth. Wangle about how to trade stocks for dummies to advance money-making techniques.
15 Advance Stock Market Courses
Best stock market course in Delhi NCR, IFMC brings you the 15 specializations.
Advance level stock market course is a gold standard program.
Stock Market Courses for Beginners
4 NSE Module learning the stock market basics is the first step for beginners. The stock market courses for beginners will take students to take a look at how to trade profitability is by generating trading tips for freshers. Stock market trading for beginners online course is an essential NSE module. Understanding the basic of investment in four types of the stock market is key for investors.
Our guide to long term and short term online stock market trading courses India will help you analyze common errors while trading. Moreover, intermediate stock brokers must understand IPO, legal regulatory framework, and fundamental analysis to stock market trading. By joining the best online stock market courses in India for beginners you will learn timeless investing techniques like Warren Buffett and Mario Gabelli.
Technical Analysis Course
Do you want to master a former technique to stock market analysis from experts? Technical analysis programmer is a sure shot way to increase your winning probabilities in the stock market with minimum risk in trading.
What is technical analysis course? Technical analysis for beginners caps 20- NSE modules along with practical stock market trading classes in Delhi. Whether you are a stock market beginner or seeking to upgrade share marketing skills we will help you to study chart patterns, trend lines, candlestick, head & shoulders, averages, momentum. You will get the best syllabus of technical analysis. We will help you become a certified technical analyst. Technical analysis of the stock market is an important subject. Do not wait and take technical analysis crash course today.
Also learn technical analysis in India trading strategy of Dow Theory, Fibonacci sequence, and Elliot Waves. IFMC has the best technical analysis course in Delhi. Students who cannot come to Delhi can also take technical analysis online course.
Options Strategies Course
Options strategies course is 2-month short term course in NSE NCFM courses certification. Where students get to learn different trading verticals of options to hedge. Options are also helpful for implementing various trading strategies such as straddle, strangle, butterfly, colour etc which can help in generating income for investors under various market conditions.
After completing the course students can pursue a career as an arbitrager, jobber, or trader. You can join broking houses as options expert. 
Options Trading Strategies Course is the ultimate way to become a highly profitable options trader. We will help you options trading strategies that work in live trading. Wait, there is an add on. You can dig in secret to generate consistent profits from the stock market at minimal risk.
Make an amazing career as a fundamental analyst. Fundamental analysis course covers 6 NSE modules of 1-month duration. Explore essential concepts to an expert level that will help you to achieve better insight into the analysis.
Understand how to the comprehensive balance sheet, income statement, profit and loss data. Interpret qualitative analysis and quantitative analysis model. Estimate cost with asset classification pricing model.
Assess stock options price through the qualitative model. And last comprehensive investment valuation ratios to estimate stock price. This course is based on NSE NCFM Certification Course in Fundamental analysis module.
Capital market dealer module is an entry-level programme for those who wish to join stock market courses for a job. The program enables you the basics of share market, how to trade in stocks, help you prepare for NCFM certification. It is an important module for share trading courses.
You will learn how bonds, foreign exchange, securities trade. Additionally, basic concepts of the primary market, secondary market, basket trading, algo trading, multiple index, and arbitration. The program prepares you for Audit Analyst, Budget Analysts, Product Operations Analyst, and Investment Associate.
Derivatives
Market Module
What is derivatives market course? Equity derivatives program is a study of price movements on assets equity.
The derivative course equips students with the essential fundamentals of the equity derivatives market. It delivers an effective skills to risk management in equity investments. Also, learn what are the different types of derivatives in Indian stock exchanges.
NISM SERIES 8 course outline of forwards, trading of futures & options, participants of the derivatives market, future pricing, and option pricing.
NISM equity derivative course primary focus on equity derivatives instruments, structures, and behaviour in the global market.
Commodity market course introduces you to NSE and NCDEX commodity trading. It is an important module of NSE courses.
The 5-hour commodity trading course is beneficial who want to pursue a career as a brokerage in commodity derivatives. The commodity training emphasis on core application and pricing mechanism of commodity futures.
With commodity trading course gain practical knowledge to trade soft commodities like agro, wheat, coffee, cocoa, fruits, and sugar.
Become familiar with future contracts, open interest, and volume. Traders can improve skills to study fundamental statistics and seasonal market report.
With the NISM currency derivative course prepare to become a 21st-century leader. By helping you apply popular analytical. Wide range of modern statistical trading tools.
Currency market online course is a 6-hour short term program in Forex trading. Learn the basics of trading foreign currencies. Forex trading is a major currency. One of the best resources to study the impact of market economics on trading currency future.
It is a perfect course who wants to prepare for NISM certification. Offering in-depth knowledge of currency pair, economic indicator, trading system, OTC, exchange options, option strategies, and more.
Want to make a profit from day trading? Predict stock market with right intraday tips. In this module get a hands-on demonstration on how to interpret market news and data.
Predicting the stock market is risky, more if you are untrained. We will tell you what are the market sentiment and how they impact price movements. Spotting market trends is essential as you shortcut to money-making technique.
Gets some easy and quick day trading tips from experts. Gaining knowledge helps to mitigate probable risks of intraday loss and making precise predictions.
Research analyst module is a certified training in NISM research analyst course. Students require passing the research analyst certification examination to work as an equity or commodity analyst. Along with technical analysis and fundamental analysis, the course imparts other market evaluation techniques.
Many research analyst aid investment adviser and investors whether to buy or sell stocks. You will learn to evaluate company data, industry data, and study economics trends. Research analyst is an opulence position in the financial industry.
Mutual Fund Certifications
NISM Mutual Fund Distributors Certification Examination is a mandate by SEBI certification courses to get a stock market job. Mutual fund courses in Delhi are entry-level exam preparation for working professionals in the area of mutual fund distributor.
Mutual fund SEBI course covers important topics. Including basics of a mutual fund, role and structure, and kinds of mutual fund schemes. It is an important module for students engaged in sales and distribution of Mutual Funds. Students will get a NISM mutual fund mock test for improving the quality of learning by SEBI NISM SERIES Course VA. 
Diploma stock markets are innovative stock market training program available for students who wish to foster a career in Financial Market, Bank, Mutual fund, AMC, Securities Market, Back Office, Portfolio Management and wish to work as Dealer, Relationship Manager, Portfolio Manager, Equity Analyst. One can opt for sub-brokership or Franchisee. Stock market diploma course is attended at the comfort of your frame at your flexibility along with job or graduation.
Diploma in stock market program prepares you for 6 NSE Modules and UDTS. Professionals can choose from diploma in capital market or advance diploma courses in financial market.
NISM module comprises of 10 series of SEBI courses. NISM  exam seeks to create a common minimum knowledge benchmark for students working in the share market. To enable a better understanding of capital and primary market. NISM certification examinations for professionals employed in various segments of the Indian securities markets.
The series includes Corporate certification examination, Securities intermediaries compliance, Currency derivatives examination, Mutual fund distributors certification examination, Equity derivatives, Investment Adviser, and more. NISM SERIES VA and NISM SERIES VIII series exam prepare students for mutual fund distributors, currency derivatives, depository operations, and risk management.
Along with get complete NISM Mock Test – the best practice papers for exams.
Intraday trading strategies need familiarity with core principles. Like resistance, support, algorithm, and trading software. IFMC top-rated intraday trading strategies aim to strengthen tools during day trading strategy. Learn intraday trading strategies from experienced day traders.
After completing the best trading course turn profitable trades. Analyse the market with price action, control risk, and handle emotions. Intraday trading strategies for beginners to advanced professionals are used in equity cash, futures, options, commodities, and currency.
Uni-Directional Trade Strategies©
Uni-Directional Trade Strategies© (UDTS) is the IFMC copyright content is one of its kind programs. UDTS is a systematic mechanism to profit maximization and risk management.
The unique trading model focuses on the core mechanism of intraday trading, positional trading, and long-positional trading. Students seeking to learn trading techniques on how to trade accurately can join UDTS course.
You can learn many amazing tips for Intraday trading for beginners. The stock trading for beginners course discuss market behaviours, analytics to find the trends and applicability of technical tools in a live market with examples.
IFMC BEST AND BIGGEST
STOCK MARKET INSTITUTE IN DELHI
Stock Market
Course
In
Delhi NCR
India
Your career is defined with what you are and how well you know it. Push your limits with IFMC Institute, benchmark and prove your knowledge with the world's first stock market training institute.
It is now growing rapidly in India across education hubs such as Delhi, Noida, and Ghaziabad. IFMC is known for producing stock market graduates who are recognized internationally as career-ready.
Most frequent questions and answers
5 Reasons To Join IFMC Team of 10,000 Students
See what our students have to share
I am a stock analyst. I joined technical analysis course to improve my knowledge. Within 4 months span, I was able to search for a technical analyst job. It was a massive learning experience at IFMC. Its modules and course preparation material are up to the standard. The mentor's guidance is helpful. Especially Vinod Garg sir who's stock market training is enlightening.
I am studying quick trader program at IFMC. It is a great stock market institute in Delhi to learn quality education. The faculty motivates you to learn. Manish Taneja sir trading strategies are very unique and effective.
Joining IFMC was the right decision. I got placement in HDFC bank within 3 months after completing the stock market classes. On a salary package of Rs.5.5 lacs. IFMC helped me to build in-depth holding during trading courses.
IFMC courses are a life saver. I don't have money or time to attend classes. My goal is to become a professional stock trader. Thanks to the stock trading course, I'm close to my goal. I believe in learning for lifelong. IFMC is a great way to learn to share trading from NSE certified trainers.
The courses are knowledge bale and are of great help to master the stock market. I only wish to find it sooner. After completing the equity derivatives market course I am a manager to invest in the stock market efficiently and upgrade skills for risk management.
The advanced technical analysis course has to help me with risk management. Indeed practice disciplined trading. Genius stock market training for beginners i've ever enrolled.