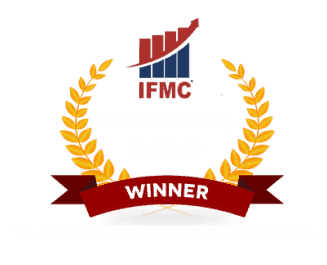 Online Stock Market Training For Job & Career In Stock Market
Introduction

Objective

Features

Target Audience

F.A.Q
Top Online Stock Market Courses for Job
We make you job-ready for the financial market with the best online stock market course. Our perfectly designed stock market courses offer a simplistic understanding of the latest tools and techniques that will help you boost your career in the stock market with preparation for NSE and SEBI certification in NCFM / NISM examination.
Introduction 
Stock market offers vast career opportunities. People consider stock market jobs as one of the hottest professionals, and demand for stock analysts is at a boom. IFMC online stock market course for jobs intended for anyone interested in developing skills and experience to pursue a career in the share market. The program comprises 5 courses providing aspirants with latest job-ready skills covering industry curriculum mandated by RBI.
Reserve Bank of India (RBI) is the governing body to regulate Indian Stock Exchange mandates SEBI to conduct BSE & NSE examination. The exam provides NISM / NCFM certification to students who clear the NSE exam.
The financial industry is booming, and the demand for skilled persons in the broking industry like stock brokers, Research houses, Mutual funds, banks, depositories, KPOs is also increasing. IFMC, understanding the skill gap between the demand and supply of qualified stock market professionals, launched a job-oriented stock market series with 5 specialization programs. Anyone can join the course who wants to prepare for the NSE exams And SEBI exams.
The course covers simple to advanced topics on Indian Stock Exchange, technical tools, trading and techniques in four types of the financial market including the capital, derivative, commodity and currency (Forex).
The aim of the stock market online course for jobs is to equip students with theoretical and practical knowledge. Our goal is to prepare students for NSE BSE examinations. The course covers important NSE modules to provide the students with an academic base so the students can easily clear NSE, BSE, SEBI Modules and get certifications from NSE. Students can choose among 5 stock market online job courses according to the specialization. Each course fulfills the goal of providing learning of technical tools and techniques that showcase job-readiness in the financial market.
Each course covers important topics of NSE modules
We help students to prepare for NSE / BSE examination in simple way
Get opportunity to learn from industry leaders
Practice your skills with live trading example and NSE mock test
Stock market online courses for a job are useful for share market beginners. Newbies who want to know how to make/start a career in the stock market must join the program. IFMC offers five short-term job-oriented courses including one free share market course introduction. Each course is unique for students who like to start a new career in the world of the capital markets.
New investors, brokers, sub-brokers, retail traders must enrol for Diploma for Financial Stock Market Course Online. The course covers 6 NSE SEBI modules in capital market, derivatives market, commodity market, currency market, technical analysis, and options strategies. After completing the course, students can pursue careers as financial planner, wealth manager, and investment advisor.
Equity dealer online course is a 27 hours program in equity derivatives that covers the capital market and equity derivative market NSE module. The course is ideal for students pursuing careers in broking houses, depositories, the banking sector, a dealership with a starting salary of Rs. 10,000 to 25,000.
Students who want to pursue an advanced career as a financial service professional must take an online certification stock market course. It is the best short-term certification course in a stock market in 4 NSE modules in capital market, derivative market, commodity market, and currency market. The course prepares students for NCFM NISM exam preparation and certifications.
Online technical analysis courses are useful for aspirants who want to pursue a career as a technical analyst. The course covers 7 NSE modules that provides a view on comprehensive and in-depth knowledge about technical analysis. After pursuing the course, students are eligible for jobs in the financial market as entrepreneurs, advisors, or those who work in the stock industry can upgrade their career.
Students who want to become a research analyst can enrol Online Research Analysis Course. The course covers advanced fundamental concepts which teaches students in a simplistic manner who have no or little knowledge of accounting.
1- How to make a career in the share market?
Here are complete guidelines to stock market job qualification:
Many companies recognise students with short-term NSE certification without having an educational diploma in the financial market.
NSE certifies students with NCFM certification or NISM certification exam, which SEBI mandates to get a job in the financial market.
Anyone who has a good understanding of trading and the company's fundamentals in the Indian capital market is a prospective candidate.
The NSE examination exposes students to a plethora of four markets including knowledge of trading, risk management, money management, and trading strategies.
Students require attending a course which helps to prepare for the exam. Once you qualify the certification, then you can make an entry into the stock market as a trainee.
2- Why should I make a career in the share market?
The stock market is growing each day. Besides, the volume of employment opportunities is also increasing at a fast pace. In fact, the industry is full of enormous career prospects to aspirants from all backgrounds, including science, humanities, and commerce. The financial market offers huge potential from entry-level positions like relationship manager, stock analyst, equity advisor to set up their own entrepreneur venture.
3- How to become a stock analyst?
A stock analyst determines investment opportunities. They work in banks, mutual funds, pension funds, insurance companies, securities analysts, and other businesses. Aspiring students aiming to become an analyst must gain certification in technical analysis or research analyst. The minimum eligibility to get a qualified job as a stock analyst is a job-oriented course after 12th. The course offers a fundamental understanding to analyse company stocks and build a wealthy portfolio.
4- How to become a stock analyst?
Here is a list of top stock courses.
5- What does a stock analyst do?
A stock market analyst does:
Guide individuals with financial investment opportunities in the stock market known as portfolios.
Determine historical financial data.
Student business, industry, and economic trends.
Evaluate company financial statements to measure value.
Meet the company's financial goal.
Assess company strength and preparation reports.
6- Do I need to take the modules in a specific order?
Students can choose the course depending on their specialisation and profile in which they want to prepare for their career.