What's the best way to learn stock trading in 2023? If you're new to the stock market and want to learn 'how to trade stocks online', this beginner's guide to trading stocks is for you!
Fortunately, there are several paid and free resources to learn stock trading. These resources on online trading guide to the stock market will help to build the skills required to become financially independent traders.'
The million-dollar question is, "how to start investing in stocks" and "get success"? 
In this article we will answer these questions, importantly, we'll discuss into the depth of each including:
What is the stock market?
how to invest in stocks market online?
how to buy stocks and sell stocks in India?
Before we dive in, it's necessary to understanding the stock market for beginners and what are shares?
What is stock market?
The stock market is where investors involve in buying and selling a public listed company's share. This may include securities listed in the primary market as well shares listed in a privately traded sector.
A stock market can also be referred to as an equity market or share market. Currently, every stock trade is conducted through a computer terminal at the office of a broker or via the internet.
What are Shares?
A share is a popular financial instrument in the world. It is owned by the company representing to claim company earnings or assets. Stock or share of flexibility, choice, as well as different levels of risk.
Share trading fascinates everyone around the world. This is because it offers a lucrative opportunity to make money. But it also involves risk. That is why it is important to learn share trading by gaining knowledge.
How to Learn Share Trading for Free?
In order to be a successful stock trader, you need to develop the skills required to make growth. Also, you need to acquire the necessary knowledge about stock market analysis and strategies to pick up successful shares. This together will help you achieve the best possible outcome.
Trading stocks for beginners is difficult. It requires lots of patience and discipline but the good news is that you don't require to attend any college online to become a share trading expert.
You don't even need to spend hundreds of hours on the internet to search for learning stocks 101 guides.
Here is our playlist to YouTube Videos where anyone can learn free stock trading. This playlist will help you on 'how to get started in stocks'?
You can subscribe to IFMC Institute YouTube channel to access the weekly dozen on information on stock trading education. Where you can learn share trading India from the comfort of your home. Build your skills with these video tutorials from our top faculty teachers. It is the best way to learn simple tricks on how to buy stocks for dummies.
I want to learn share trading, you'll require to become an expert in the following areas:
Difference between primary and secondary market
How to trade in stocks
Factors affecting shares price
Technical analysis
Fundamental analysis
Difference between the primary market and secondary market
A company share is listed on two primary stock exchanges: National Stock Exchange (NSE) and the Bombay Stock Exchange (BSE). People invest in stock to have a better future. However, investors are required to invest their money carefully by selecting the right stocks and putting the correct strategies in place to make good returns.
A company chooses to list their stocks in the primary or secondary market, it comes out as a primary market which is also known as Initial Public Offering (IPO). While on the other hand, when an investor can buy and sell the company's shares after they are listed in IPO, it is called a secondary market.
Check: Career in Stock Market
How is the price of a share determined in the market?
Generally, in a market scenario, the price of a share goes up when a company is earning high growth. During such an event, investors show their interest to purchase stocks resulting in high demand so does the price. The price of a share is directly related to its demand. Hence, demand is the prime factor for determining the price of a share. Similarly, several factors affect the price of a share. You can learn from the experts at a professional stock trading course for beginners at IFMC.
You may have heard hundreds of times people saying that the market is going up and the market is falling. If you read the stock table, you'll realize that not all stocks rise or fall. There can be few stocks that move in a different direction. When the stocks are listed for exchange, few stocks are grouped to form an index on a different basis. The stock indices are required for sorting out shares, representation, comparison, passive investment, and reflection of investor sentiment.
Technical Analysis
Everyone knows how hard it is to earn success without knowing knowledge of technical analysis. This is because mastering technical analysis enhances returns. Moreover, boost your confidence in stopping you from committing mistakes.
Technical analysis of stocks is a method to forecast share price direction through the study of past market data. In technical analysis you will learn:
Technical Analysis Strategies for Beginners.
How to Use a Moving Average to Purchase Stocks.
How to Use Volume to Improve Your Trading.
The Anatomy of Trading Breakouts.
Market Reversals and How to Spot Them.
A great way to learn technical analysis is to join the IFMC Institute technical analysis course. The course is an easy video guide to share trading for beginners.
Fundamental Analysis
Fundamental analysis is not dead. No matter what you think – fundamental analysis of stocks is still one of the effective ways to predict future price movement and gauge whether a stock is undervalued or overvalued. Fundamental analysis course online is a process of studying a company's intrinsic value.
It involves the study of the economic and financial factors of a company. Studying and evaluating past and current data helps investors and traders to gain an edge in the markets to make informed decisions.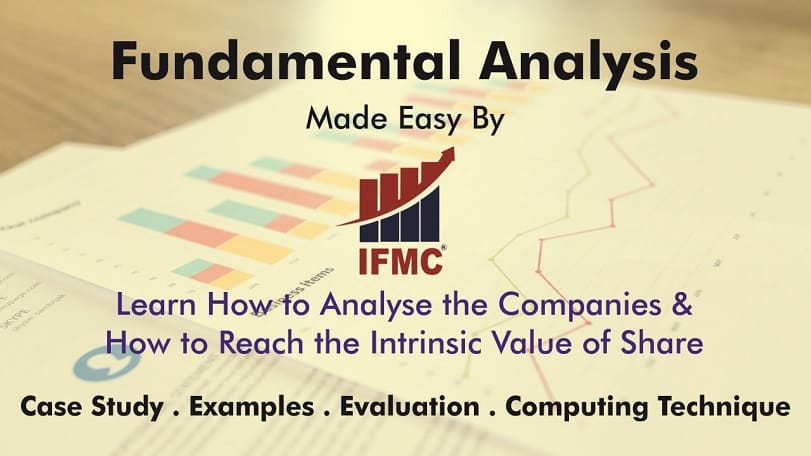 How to Learn Stock Trading in India
Before starting to investing in the Indian stock market it is important to learn what are stocks, how to invest money, and more.
Most of the trading in the Indian stock market takes place on its two stock exchanges. Mainly, the National Stock Exchange (NSE) and Bombay Stock Exchange (BSE). The best way to learn stock trading India pdf is not a solution. They won't help you. You need to join a professional online course to learn stock trading in India. These tips work for penny stock trading, options trading, commodity market etc.
To make the process easier for you we have summarised easy tips to learn stock trading:
Start with learning basics: Many concepts like trading in commodity, capital, options etc are based on trading basics. Building trading skills first requires an easy start with learning the basics of share trading.
Find your investment IQ: Firstly, you need to understand the concept of stocks trading and how it works. Besides, if you're immediate, brushing up your skills won't harm you. Learn stock trading in India from a professional stock market institute like IFMC.
Take a beginner investor course: Secondly, take a professional course from a reputed institute. IFMC Institute is a top-rated institute for excellence in financial market education. An online stock broker course covers the study of tools, techniques, and stock marketing strategies.
Pick up a solid stock: Learning stock trading includes a live trading session. By studying solid stock research, you can learn how to pick the best stock.
Open an online brokers account: Find a good online stock brokers to open an online investment account. Become acquainted with the layout to benefit from free tools.
Learn how to invest in the stock market: Once you learn what is stock? The next step is to master how to invest in stocks. This will help you make an independent decision on how to buy stocks online without a broker through stock trading sites. However, stock trading books offer a wealth of knowledge. You can find best books to learn stock trading in India (hundreds of books) on investing in stocks 101. But, they do not offer practical guidance. If you are looking for an easy stock trading for beginners course then you must subscribe to IFMC Institute YouTube Channel best site to Learn stock trading in India to learn stock trading online for free. You can also join stock market trading for beginners article and blogs are also a great way to gain knowledge.
Find your trading style: Once you learn the basics of stock trading, it's time to develop your own trading style. A stock trading course will guide you in investing in stocks for beginners. Wherefore, successful trades commit to using their online investment game plan for all trades.
Final Words
IFMC makes the process to learn Stock Trading simplified with a unique Uni-Directional Trade Strategy Course. The course is available on both online and offline platforms. Indeed, the course is designed for investors, traders, and fresher's who aspire to learn the best intraday trading strategies and other share trading strategies.
Must Watch: Learn Stock Trading Online Free
Do you know how you can learn stock trading online for free? Learn share trading online free India on IFMC Institute YouTube Channel the best youtube channel to learn stock trading with 9 million views Enjoy fun practical classes to learn stock trading.
Learn More: Top 10 Online Stock Market Investment Courses