IFMC® - Stock Market Institute - Krishna Nagar East Delhi Branch
IFMC®-stock market institute krishna nagar east delhi branch for Stock Market Training Courses & Share Trading courses.IFMC is the Best institute for Stock Market Education. IFMC is known for simplistic lectures in stock market and has taught a common man to trade with trade with Simplicity & confidence.
What sets apart the IFMC from other institute is its methodical way of teaching ,complete theoretical knowledge along with practical knowledge . Whether student wants to be a full time trader or do job in Stock Market, IFMC'ians always get an edge over in market . UDTS and MADE ,the copywrite strategies of IFMC are best way to learn Stock Trading in a perfect manner. IFMC
IFMC ® is ISO Certified Stock Market Institute
IFMC ® is Pioneer & has a monopoly on Stock Market Courses.
IFMC ® is the only Institute having its own copy write Trading Strategies UDTS ©️ & M.A.D.E. ©️
IFMC ® has its own Softwares & Learning Screeners for Intraday, Positional, long positional and Investments that makes learning more easier.
IFMC ®️ has its own book UDTS ©️ Intraday Trading Brahamastra - A comprehensive guide for all beginners, traders & investors.
IFMC ® has a belief of 12 Million plus learners associated with IFMC ®
Best Reviews on YouTube and social media (Reviews in lakhs).
Practical training in Live Market.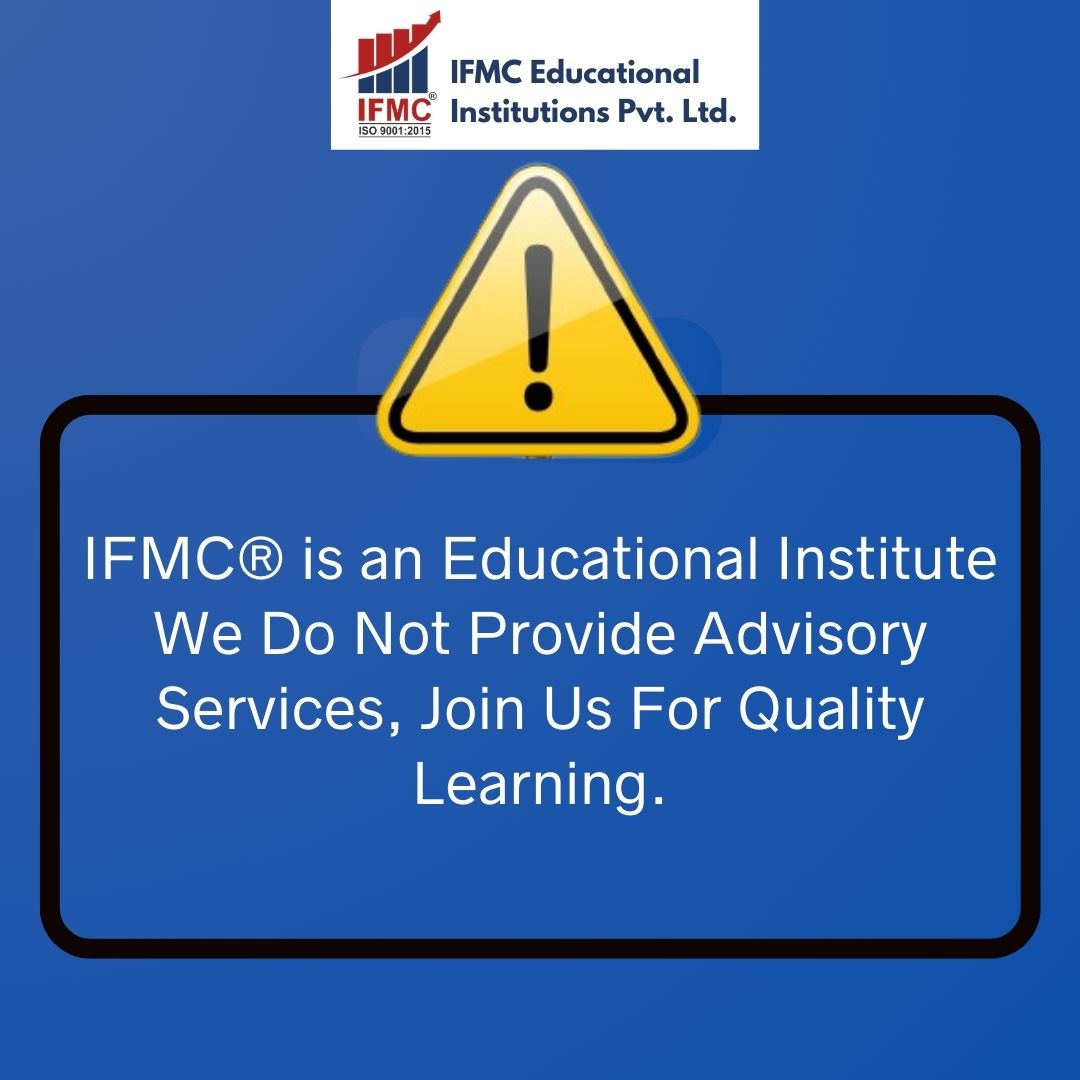 Why is UDTS So Popular Amongst Stock Market Traders?
UDTS Best Intraday Trading Course
Weekly Prediction
27 - Nov - 2023 to 02 - Dec - 2023
OPENING OF IFMC -
KRISHNA NAGAR BRANCH IN EAST DELHI
IFMC Institute Krishna Nagar East Delhi Branch is no. 1 Institute for banking, finance, insurance, and stock market education. Laxmi Nagar is a popular education destination. Our Laxmi Nagar centre is located near the metro station gate no. 4. Making it easy to reach. The students seeking for long-term and short-term job-oriented stock market courses in Laxmi Nagar can join IFMC Institute. Here are some popular share market courses in Laxmi Nagar; Advanced Diploma in Financial Market, Diploma in Stock Market, and Certification Course in Stock Market, Quick Trader, Stock Market Course for Traders, Stock Market Course for Professionals, Technical Analysis, Fundamental Analysis, Options Strategies and NSE / NCFM / NISM certification. Students seeking for a career in stock market can enrol classroom course in Laxmi Nagar. These stock market classes equip you with solid working knowledge in all segments of the stock market. For example, Equity Derivation, Research Analyst, Commodity Market, Currency Market.  However, working professionals can join the IFMC Stock market online course. The stock market online courses allow study with convenience and flexibility. IFMC Uni-Directional Trade Strategies (UDTS) is the best selling online stock market course for beginners. The trade strategies are formed by the expert team of IFMC in conclusion to rigorous academic research. Apart from providing world-class training IFMC is also known for imparting placement support.
Feel free to get in touch using the form below or call us anytime. We'd love to assist you to make your share market learning experience enjoyable. We care about your privacy. Your details are secure with us.
Please be patient while waiting for the response.
For General Inquiries: +91-987-051-0511
IFMC KRISHNA NAGAR EAST DELHI BRANCH
K-10 Krishna Nagar Main Road Opposite Haldiram, East Delhi, New Delhi – 110051
IFMC LAXMI NAGAR DELHI BRANCH - SERVICE AREAS