Do you want to become a professional stock broker? Are you interested to learn how to buy or sell stocks? Read this article to know more about how to become a stock broker?
Institute of Financial Market Courses (IFMC) is an award-winning institute for excellence in financial market education. Helping hundreds of scholars each month to learn stock market, smart investing strategies, money making techniques, and share trading plans. Investing in stock market business can be very risky. There are many uncertainties involved in trading, those are beyond our control. Hence, acquiring knowledge about stock market tricks and techniques becomes essential here.
It is significant for smart investors to understand what are stocks and how to trade in market. A comprehensive stock market course will also provide a useful experience for trading miscellaneous assets like futures and options.
IFMC offers both classroom and online stock market courses. Indeed boost confidence for investing and trading stocks though with a methodical plan.
If you want to know more about the stock trading course, salary, and job opportunities, then you're at right place. Here are a few questions we'll answer in this post:
Why learn stock trading?
What will it take to become how to trade profitably in the stock market?
What is the eligibility to enter the market?
Is there any certification?
Let's discuss all these topics one by one.
Introduction to Stock Market
Stock market in an emerging market to start a healthy career. The opportunities in the financial market are growing each day as many start-ups are setting up. Thus, beginners have the advantage to become an entrepreneur with a skilful stock market education.
Who is a Stock Broker?
Stock broker definition. Stock Broker is a registered representative who executes buy and sell securities on behalf of clients. Usually, a stock broker is associated with a broking firm and manage financial transactions for clients.
What does Educational Qualification Do Stock Broker need?
When you plan to invest in the short-term course for stock trading or any other advance program, the first thing that comes to your mind is about education qualification. The stock trading course for beginners requires no particular experience. Students from any education background like commerce, science, humanities, and arts can take stock trading strategies as a career. Students with 10+2 qualification can also apply for the stock market course.
You just need a passion to trade in the stock market. Good personality and communication skills increase your chances to get advance career growth. Moreover, if you have a strong fundamental and technical background in economics and accounts, that will enhance opportunity.
Career Opportunities for a Stock Broker
Stock broker career opportunities in share market is a very good option indeed. The job opportunities are opened in different companies because of Indian Stock Market economic factors. A stock broker can be employed in India as well globally after acquiring certification in stock trading. We will discuss more certifications in the article. Let's look at some job prospects for stock broker in India:
Entry-Level Jobs: Relationship manager, dealer, financial advisor, investment advisor, and equity advisor
Middle level: Equity research, fundamental analyst, senior relationship manager, fundamental analyst, or technical analyst
Entrepreneurship: Broking-sub broking services, portfolio management, financial consultant, self-investment, financial advisor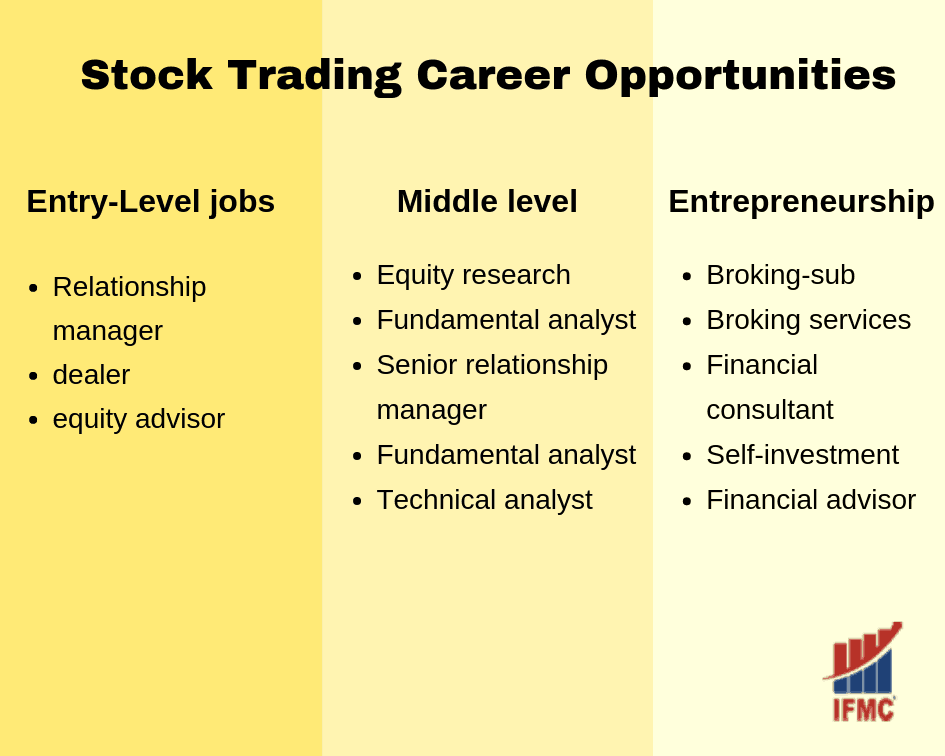 What are the Duties of Stock Broker?
Duties of stockbroker simplify share market terms and follow the unique trading practice. For instance
Research the financial markets
Report to clients
Monitor clients' investments
Consult investment analysts
Pitch for a new trader
Salary of A Stock Broker in India

Image sources: Glassdoor
Salary of a stock broker in India depends on qualification and performance. There are many employment opportunities for stock traders at investment banks, large broking firms, mutual funds, insurance and investment consultants, and pension funds. If you hard working and have that ability to work in a strict schedule to strive in a competitive environment then you are the right candidate to learn stock trading. For an entry-level job, you can easily get up to Rs. 25,000 per month salary.
The average pay for a stock broker in India is Rs. 325,000 per year. Note that people in this sector do not have more than 20 years of experience. To get better remuneration, you should get a specialization in marketing operations, sales, research or HR. Although, for an experienced stockbroker, the sky is not the limit.
Stock Broker Certification
Stock Broker Certification in India can be obtained by clearing the National Stock Exchange (NSE) exam. It is the most important part which acts as an official document attested in approval that certifies that you an eligible stock trader. The best document which will facilitate you to get an entry-level job is the certificate provided by the National Institute of Securities Market (NISM). It is a public trust which is established by the Securities and Exchange Board of India (SEBI).
The SEBI is a stock market exchange regulator. Getting a certification is an easy process. Prepare for your certification exam by joining IFMC. Our faculty is highly qualified with more than 12 years of experience in the financial market. We offer a practical based approach to connect knowledge and applicability.
According to Wikipedia: Share brokers in India are governed by the Securities and Exchange Board of India Act, 1992 and brokers must register with the Securities and Exchange Board of India. The National Stock Exchange of India and the Bombay Stock Exchange offer certification courses.
Stock Broker Courses
Stock broker courses include stock broking certification. Stockbroking courses are related to capital markets, financial planning, investment, securities, portfolio analysis, equity derivatives market, and other certification courses. Following are the certificate courses in stockbroking by IFMC Institute:
Certification Course in Stock Market
Certificate course in the stock market is a four-month programme formulated for those who wish to enter the stock market and become stock market dealers, system operators'. This course covers four markets of Indian stock industry viz capital market/derivative market /commodity market & currency market. It is a basic programme in Job Oriented series with 100% Placement Records
CSM IS A 100% JOB ORIENTED PROGRAMME.
Unique Feature of The Programme
This is a beginner programme for all job seekers in the financial/broking industry.
You can upgrade further to a diploma and advance diploma.
A complete blend of theory + practicals.
Faculty with 15 years of experience in teaching & trading.
Practice in live markets.
Filling of account opening form/IPOs', mutual funds.
Managing records how to check Clint portfolio, management of clients
A great add-on course along with Graduation, MBA
Industry recognized programme
Based on theory as well as practical for complete knowledge
You enter the industry completely trained and fit
Workshops and other programmes and meet with industry experts.
Become 100% confident to trade and earn
5 tier exposure Faculty, Practical Faculty, Older investor and Trader, Research Team, group discussion, Reliance Securities
What Will You Get?
NCFM Capital Market Module certification
NISM Equity Derivative Market Module & NCFM Derivative Market
Dealers Module
NISM Currency Derivative Market Module certification
NCFM Commodity Market certification
IFMC Certification- Certificate course in stock market
Uni-Directional Trade Strategies (UDTS) Course
There are several stock market courses available online and offline offering a short-term course to advance courses. A Unidirectional Trade Strategy (UDTS) Course is a complete three in one course which covers basic, analytics, and applicability of stock market. The course is for beginners and professional those want to learn how to trade profitably in the stock market and how to win the stock market.
Demo Videos
Unidirectional Trade Strategy (UDTS) Course
UDTS ( or Unidirectional Trade Strategies) is a simple technique to make stock trading accurate and simple.
A must watch the video for every beginner and trader.
STOCK TRADING ACCURATELY MEANS "UDTS"
Why uni-directional trade strategies are being so popular among traders and investors. Let's see why and how to buy this globally appreciated online course?
Live Intraday Trading on the Basis of UDTS
Live Intraday trading on the basis of most popular uni-directional trade strategies to show how this strategy wonderfully works. It also shown how to choose stocks for intraday trading and how to use the stop-loss.
[wp-review]