In this article, explore the best intraday trading strategies for beginners. These strategies are powerful and proven to help you gain profitable trades.
Intraday trading fascinates traders all through the years. Many manage to make fortune, while others lose during intraday trading. Even the thought of intraday trade scares every trader. Individuals are terrified by horrifying stories of investors losing 50% of the portfolio value.
Our guide to 15 powerful strategies on intraday trading aims to help novice traders to adroit the skills to earn profits.
15 Best Intraday Trading Strategies For Beginners for 2021
Million of traders invest intraday around the world, with one aim, which is to make profits. Employing unique intraday trading strategies is essential to every trader. Here are 15 simple sets of best intraday trading strategies for beginners one should follow. This will help gain confidence. These strategies in trading are based on human psychology and have nothing to do with Technical and Fundamental Analysis.

Let's get started with the 15 Powerful Strategies to Intraday Trading for Beginners.
Strategy 1: Invest in Knowledge to Drive Progress in the Right Direction
Intraday trading for beginners is risky as the market is highly volatile. But one can act smartly to earn some quick bucks. Intraday trading is different from regular trading. Traders need to have a practical approach. Emotional factors add up in earning from intraday trading.
If you are planning to earn profits in the shortest time possible, then it is crucial to learn that there is no shortcut. You need to research before intraday investing. Intraday trading strategies cannot help you become rich overnight.
Many traders start day trading with an assumption to earn profitable trades. This is nonviable and not real. Learning the stock market and intraday trading strategy is the key to smart investing to make informed decisions.
Strategy 2: Employ best Intraday Trading Strategy
Investing strategies is the core of a trade. Always follow a specific trading strategy that suits your risk tolerance or schedule. Subsequently, you can use Uni-Directional Trading Strategies to generate a significant return. UDTS is the copyright content of IFMC Institute. UDTS covers a bunch of 9 trading strategies based on technical analysis. It is the best intraday trading strategies mechanism for day traders, position traders, futures, and options.
<<<ADD UDTS BANNER here any>>>>
Adopting a flexible trading strategy facilitates traders to make a better position to pick the best intraday stocks. Without the need to incur the expense of changing course
Strategy 3: Practice Paper Trading
Putting your money at risk is not a healthy trading practice. Beginners must practise trading strategies on paper trading before investing in real-time. You must know how to
Find good trades
Enter orders correctly
Manage winning trades
Cut losses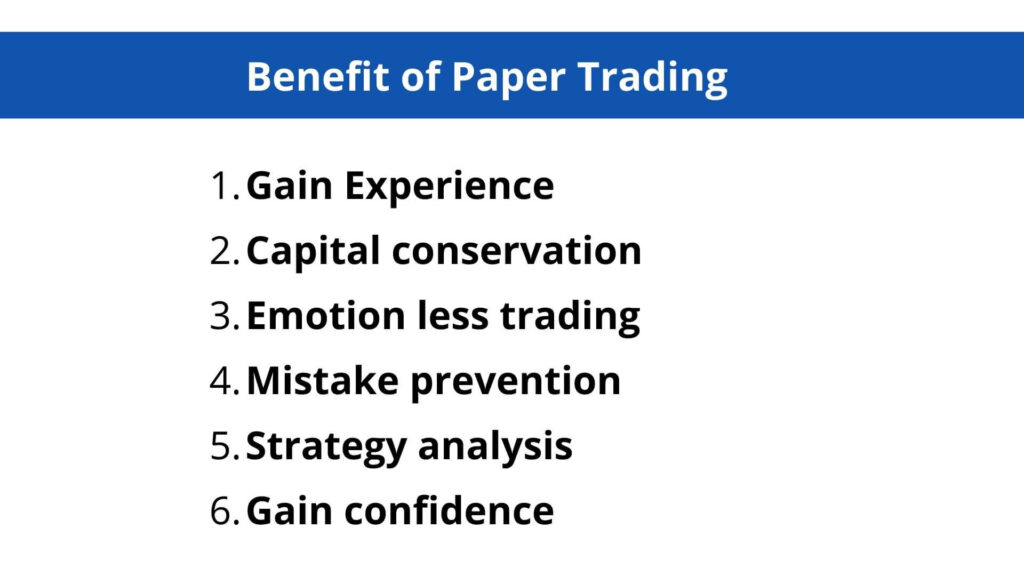 When starting with stock market investing, you want to see the effects. Before investing with real-money tests with paper trading. You can enjoy doing real trades before starting to use real money.
Because intraday trading for beginners can be intimidating. And using real money in simulated trading allows you to watch the markets. Thus, see how your trades would theoretically perform in real-time.
Furthermore, perform paper-trading for 9 days to get initial experience. Consider the net resultant of 9 days before using in the live market. Test new strategies and set up with a small amount of risk on each trade.
Strategy 4: Preparation and Stock Selection
Many stock market traders fail simply because they rush in without homework. Trading is a professional endeavour. There is no easy money. Before the market opens, prepare yourself by selecting stocks. Some questions you need to ask a fortnight are:
Performance of overseas stock market
Performance of index futures in pre-market
Economic or earnings data is due out and when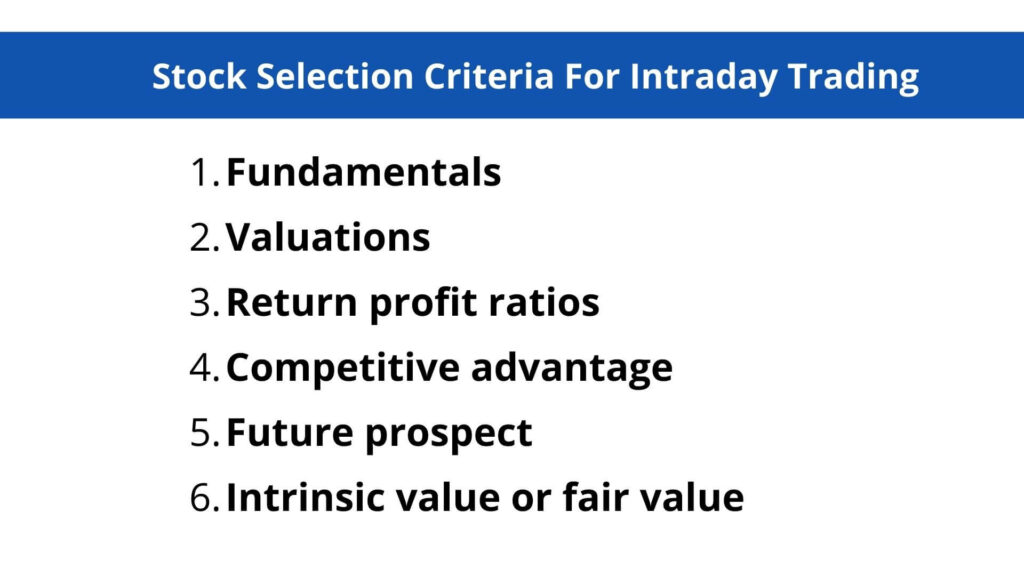 Whatever trading strategy you use, label major and minor support and resistance levels of shortlisted stocks. Set alerts for entry and exit signals. Remember preparation can make a difference to performance.
Strategy 5: Develop a Trading Psychology and Self-Discipline
Exercising trading discipline is a key money-making 100% accurate intraday technique. A successful day trader possesses several skills. The ability to determine the stock price direction and the company's fundamentals are two of them. But none of these two technical skills is as important as a novice trader mindset.
The psychological trading aspect is of utmost importance. Day traders intend to think and reach facts to make quick decisions. Moreover, sticking to their trading strategy is widely considered to win.
Strategy 6: Risk Only What You Can Afford To Lose
Intraday trading is risky. There is a high chance to lose money. Thus, set aside a surplus amount of funds that you can trade. This will ensure that you do not exceed the limit to investing. Setting yourself a trading budget is the best way to limit your investing.
Always remember, losing money is traumatic. Using opulence is a virtue of putting hard-earn money at risk. For instance, if you have a budget of Rs. 10,000/- try to use only that money and don't exceed that limit in any case.
Strategy 7: Do not Allocate 15% of your Total Amount on Single Trade
Allocating 15% to single trade is a general concept. Even though it's called 'strategy. Never allocate more than the amount you can afford to lose. The strategy is important as it underlines the fact – not all trades will be successful.
It doesn't mean that 85% of your trade will cause a loss. It just means that you shouldn't expect to reap significant profits from every trade you make.
For instance, your trading budget is 1 lakh, and then your single trade limits to Rs. 15,000.
Strategy 8: Invest in at least 6 Trades both Buy and Sell
As day trading beginners, it is available to focus on buying 6 trades of both buy and sell. With few stocks, tracking and testing opportunities are easier. If you trade in many stocks, you may miss out on chances to exit at the right time. However, it is not important to trade in a propionate number of buy or sell trades. By taking both buy and sell trades in Intraday, it reduces your risk.
Strategy 9: Quantity Should Be Less If Stop Loss is more than 1.5%
A stop loss is a predetermined amount of risk a trader will accept with a single trade. Always keep the quantity less if the stop loss is 1.5% away from CMP. If it is over 1.5% then you can increase the quantity.
This golden strategy for intraday trading helps traders to limit theory expertise during a trade. Using a stop loss can take some trading emotion out. Ignoring stop loss is bad practice. Thus, protective stop loss ensures both loss and risk are limited.
Strategy 10: Exit your trade once Stop Loss is hit
Knowing when to stop trading can be tricky for an emotional trader. An ineffective trader is unable to follow a trading plan.
Always exit from trade if it reaches stop loss. This is important to exit at stop loss from the fast-moving market where stock prices can transform.
Strategy 11 & 12: Caution When Stock Gap Up/ Down or Event Day
Take precaution when intraday trading stocks open with Gap Up or Gap Down, in such cases
Your stop-loss price and CMP has a huge difference and if the stop-loss is hit then you may suffer huge losses. So avoid stocks to trade in intraday which has Gap openings and even on any big event day
Strategy 13: Treat Intraday Trading Like a Full-time Job
Intraday trading is a full-time business. It requires complete attention. Successful intraday trading strategies is only helpful for those who want to approach trading as a full-time business. And not a hobby or a part-time job.
As a part-time job, intraday trading is no real commitment to learning. Besides, it can get expensive trading. As a full-time job, ensure you research and develop trading strategies to maximize business potential. Intraday trading is paragon from 9:00 am to 3:30 pm.
Strategy 14: Focus on Bunch of Resultant
Intraday trading is a game of probability and choosing more than 5-6 trades of both buying and selling, increases our probability to win. So don't put all your efforts and money into a single trade of a single side.
Strategy 15: Don't Carry Your Losses to Next Day
An intraday trader should always be beware of overnight risk. The key here is to stick to knitting. Carrying positions overnight runs the chance of losing money. Thereby, your trade may not be equipped to bear the cost.
However, you can carry the profit trade to the next day, but not losses.
Intraday trading is risky but the returns are high. This fascinates everyone to trade. One of the biggest challenges for a newbie in day trading is that they don't gain knowledge. Not anyone can afford to study an experienced classroom course. This is why we are sharing a few popular free courses in intraday trading for beginners.
Learn Best Intraday Trading Strategies For Free Online
Summary
Here is a snippet of strategies we have discussed above. Review and remember them before your next trade.
How the 15 Intraday Trading Strategies Can Benefit?
Intraday trading offers huge earning opportunities. Getting along with the 15 strategies to intraday trading will novice traders to
Identify the right stocks for intraday trading.
Isolate the current market trend form surrounding noise
Capitalize on the market trend
Characterize the best intraday trading stocks
Analyze right entry and exit strategy
Study trendlines and charting price waves
To conclude, countless intraday trading strategies can be ghastly for beginners. Above mentioned, the 15 best intraday trading strategies for beginners are proven to be safe to save your money.