The stock market weekly outlook is a series to help traders prepare for the upcoming week. Get stock market weekly insight into major domestic and global news that impact market performance.
Before making a prediction for the next week, we will start with a preview of the stock market weekly performance.
Stock Market Outlook Last Week
Nifty50 closed at 11,661 levels on Friday 18th October 2019 in the highest sweep of 337.90 points up of the week. Last week, the market levels were positive but remained highly volatile. Over the past few months, an economic slowdown is one popular topic among traders.

We predicted that both short-term and long-term traders should take a bullish view and suggested first buy and then sell strategy to make profits. Many traders took advantage of the positive news, earned huge profits. The market remained above the 3 support levels and showed a smart recovery of 360 points this week.
Let's watch the market on a daily candles chart.
According to last week's prediction, Monthly support was 10960, weekly support was 11,196 while daily support levels were 11257. On Monday, Nifty50 opened above the daily support level of 11,257 by showing the lowest level of 11,290. Date earlier, positive U.S – China trade deal news contributed to the steady growth in the market. Thereafter Nifty continued to gain a whole week with positive news from global markets ging handsome gains by Friday.
Let's understand positive and negative stock market weekly news:
Domestic Positive Stock Market News
Govt selling stake in BPCL
MAT credit to the lower tax rate for companies
Q2 results of brands giants like reliance, TCS are positive
Banking reforms
Global Positive Stock Market News
The trade deal between the U.S – China in phases
U.K and Europe agreed on Brexit deal
IMF bank appeal to end the trade war
Domestic Negative Stock Market News
Retail inflation increased to 14%
WPI inflation rate fell to a 39 – month low of 0.33 percent from 1.08 percent over the same period
World Bank cuts projected India growth to fall by 6%
Imports declined 13.85% to a three-year low of $36.89 billion and exports shrink to $26.03 billion
Global Negative Stock Market News
China GDP growth at the lowest level in 30 years.
U.S – China trade deal pending to confirm by Trump.
Overall, the last week the market maintains support level because of positive sentiments. There was no major negative news last week in the market.
Forth Coming Events
Monday is a trading holiday on the courses on account of assembly elections in Maharashtra. On Friday, according to stock market news RBI meeting which is tentative. The finance minister is yet to announce the cut in the income tax rate to give the economy a boost during the festival season.
What to Expect This Week
In the initial trade, the market may open stable with a steady increase. On Monday, it will release US existing home sales data. On Wednesday, it will announce Crude Inventory data.

Nifty50 predicts to take a support position in all trades. We advise traders to approach the market with high caution of trading between ranges of 10,960 – 11,580 levels. Till we get positive economic data market will be between 11100-11800. So at higher levels one should take caution approach.
The market is bullish on technical charts above 11580 levels. Long-term traders can take a support level of 10960 to make profits and short-term traders should consider 11580 as first support and 11335-second support for their buying trades.
Conclusion To Stock Market Weekly
Bullish view on short term trades with support of 11580
Bullish view on medium-term trades with support of 11335
Bullish view on long positional trade with support of 10,960.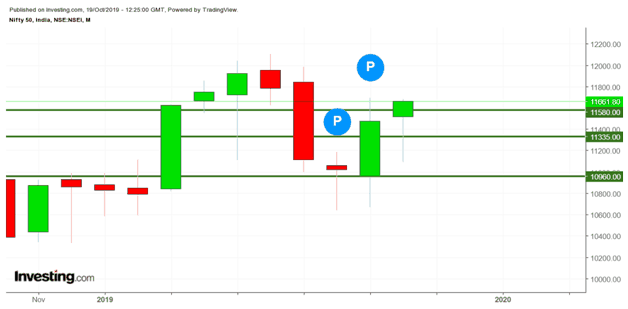 It is advisable to hold the position to gain more profits as per the latest stock market news. Can take option trade through a hedge fund. For long-term positional traders should combine Future trade with Options trade if you cannot wait till levels reach stop loss.
Where to Learn Stock Trading?
Take the online stock market course by IFMC Institute – the best e-learning platform. Traders and investors can choose from the 16+ stock market specialization course. Online stock market courses cover both theoretical and practical knowledge. We guide the program via interactive classes by NSE certified technical analysis.
Watch video