The post summarizes stock market week for 14 to 20 October 2019. The aim is to study how traders and beginners can enjoy good and bad market sentiments for the upcoming week.
Irrespective of what brokers advise you, it is wise to do homework before stock market investing. Doing homework is a powerful tool for success by collecting data and information. Stock market weekly preview aims to empower stock market beginners to trade confidently. Some important topics we will cover in the post are:
Stock market week performance
Prepare students for the upcoming week
Positive and Negative data or factors affecting the performance
NIFTY50 levels from last week
NIFTY50 levels prediction for next week
Finally, we will predict for stock market week
Stock Market Week Outlook
On Friday 12 October 2019, NIFTY50 closing levels are 11,305 up 110 points. I saw a huge rally during the third week of September with 500-700 points increase when Finance Minister announced an economic booster. Resulting in a higher gap between the market support and resistance levels. The situation worried several traders to take a position in the market to gain profits.
The market is highly volatile to good and bad sentiments. With an announcement in a market booster, the economy was sludge to 600 points. However, it is important for smart investors to understand that the booster will impact the market in the long-term. Traders need to focus on the current market data and events for short-term market strategy.
Many traders do not analyse how market data affects NIFTY50 levels. As they cannot segregate into good or bad data. You can learn rules to interpret the news through Market Analysis by Data and Event Course.
Last week, the Crude oil market-level rise 115 points up to 3869. The traders investing in the bullish market at a NIFTY50 support level of 10,960 were profitable. We advise short-term traders to take a bearish call with a resistance level of 11,388.
Check out last week's post on stock market weekly preview from 6 to 12 October 2019.
Market Performance on Daily Candlestick Chart
Let's see the NIFTY50 performance for stock market week 6 to 12 October 2019 on candlestick charts.
In our last post to stock market news outlook, we advise to take the bullish trend in the week. Note it is important to understand when support levels are close by we do not use the daily support level. Traders can learn these tactics through experience only. Last week NIFTY50 support level was 10,960. The market closed at a resistance level of 11,388. On Monday 7 October 2019 the NIFTY50 remained within the range of 11,491 to 10,960. On Tuesday the market was closed because of Dussehra celebration.
NIFTY50 levels on Friday 20 September 2019 slumped up 500 points of 11,600. Creating a gap between two levels, 11,491 and 10960. The market will struggle between these two levels, making it difficult for small traders to make profits. Thus, it is risky to make money, especially those looking to take buy calls
The market opened with negative sentiments on Monday with RBI announcement of repo rate cut of 25 bps was not so down. On global front U.S – China trade war affecting the levels negatively on the Global market levels.
Global Positive Stock Market News
Saudi Arabia resumes normal production level after drone attack
U.S – China trade optimizing
Domestic Positive Stock Market News
Infy gave better results than expected
The strong buzz in the market for another booster in personal tax cut-to boost spending
Global Negative Stock Market News
Weak global cues-doubts on China trade talks
U.S – China trade war continues to grow
Domestic Negative Stock Market News
TCS reported a 1.8 percent growth in net profit at Rs 8,042 crore for the second quarter ended September 30, 2019.
Q2 results for corporate can disappoint
In a nutshell, there were no major market sentiments released. We can see the impact on the candlestick chart of the last week. The NIFTY50 level was in the close range at a resistance level of 11,389. On Friday the market levels were highest at 11,362 below our predicted level of 11,389.
Now let's see the market performance for the upcoming stock market week.
Forthcoming Events
On Monday 14 September 2019, WPI and CPI data will be released. Whereas on Friday 18 October 2019, Financial Minister to meet RBI for review. In the Global market, On 20 October 2019, US Core Retail Sales and Crude Oil Inventory data will be released. On 21st October 2019, USA building permit number will be announced. On Friday 22 October 2019, China will release GDP and IIP data.
What to Expect This Stock Market Week
Nifty is in strong uptrend as per UDTS Monthly, daily, and weekly TREND IS UP FOR NEXT WEEK WITH SUPPORT LEVELS OF 10,960 S, 11,196 11,257. The market will remain in bullish trends. Traders should avoid selling above these levels.

Let's see the stock market week performance in the candlestick chart.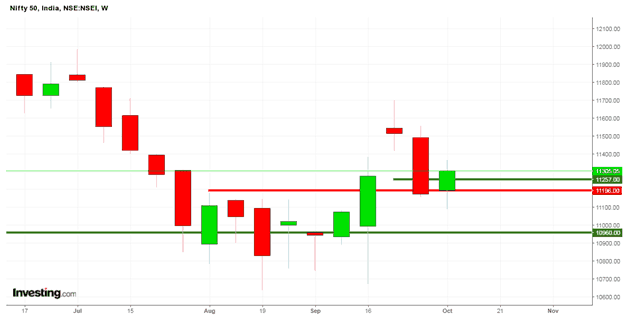 In the above chart, you can see the market closed above the level at 11305 above all support levels. Short-term traders should take bullish positions but not below 11196.
Conclusion
Long-term positional traders should take a bullish position at a stop loss of 10,960.
The stock market week range will be 10,900 to 11,500.
Short-term traders should take a bullish position at a range-bound of 11,220 to 11,500.
Take positive trades if the stock market does not breach the support level of 11,196
Want to learn how to make market predictions?
Join the Uni-Directional Trade Strategies course online to learn how to take trades for next week using stock market news.
Watch Video