Stock market outlook is the market overview based on data and event analysis. The objective is to prepare investors and traders for the upcoming week i.e. 6 October to 12 October 2019. Thereby, help to identify expected support and resistance market level. This will help traders to build confidence to make smart trade calls.
Stock Market Outlook Last Week
Last week, on Friday 4th October 2019, the NIFTY50 closed at 11,175 at sharp fall of 320 points. The crude oil dropped with 230 points at a level of 3,735. Fall in crude oil level negatively impact global economic growth while impact positively on India's GDP rate.
Traders suggested taking bullish long-term positional trades at the support of 10,080 levels. For short-term traders, bullish positional trades at the support level of 11,469 predicts to be highly profitable for last week.
The difference between both the support levels is above 500 points. Thus, traders suggest making informed decisions that are confident enough to maintain a long-term position in the market. Alternatively, can exit the market and try another attempt to enter the market.
Check out last week's post on stock market levels from 30 September to 6 October 2019.
Market Performance on Daily Candlestick Chart
Let's see the NIFTY50 performance for week 30 September to 6 October 2019 on candlestick charts.
We predicted NIFTY50 monthly support level of 10,960. While weekly support level was 10,995 and daily support was at level 11,469. On Monday 30 September 2019, the market opened above the support level 1 of 11,469 and closed at the same level. The downfall of the market was due to negative sentiments. Three major news was released on Monday.
● The Punjab and Maharashtra Cooperative (PMC) Bank scam was exposed.
● The U.S., China trade was steamed up.
● Commerce and Industry Ministry released data of Core sector growth slip down by 0.5% in August vs. a year ago.
The stock market was closed on Wednesday 2nd October 2019 due to the National Holiday on the occasion of Gandhi Jayanti. No good data or news was released in the week. Therefore, there was no major growth in the market.
On Friday, 4 October 2019, NIFTY50 remained below the estimate support level of 11,469 and finally, closed at a level of 11,175. The market did not reach the predicted support level of 10,960 and 10,995.
The market was profitable for short-term traders by taking sell call below the support level of 11,469. Whereas, long-term traders can hold a position at a stop loss of 10,960.
Pro Tip: Smart investors can earn higher profits with practice and self-discipline. Support and resistance are important predetermined levels of the price of a security at which the price will stop and reverse.
In last week's post, we discuss that a huge number of Events & news expected for release in while the market remains volatile. But only a smart investor can enjoy the market volatile, through taking buying position around the support level and selling on resistance.
Now, let's study the good and bad stock market sentiments expected to release next week which can impact the market.
Domestic Positive Market News
1. Auto sales are expected to rise in festive seasons
Global Positive Market News
1. India economy to get a boost of trade was after cutting Corporate Tax
Domestic Negative Market News
Here is the important market news is likely to affect sentiments negatively.
PMC Bank and YES Bank crisis to impact the Indian banking system
Banking reforms on questions
Moody-Indian banks at risk
GST collection dips 19-month low at Rs. 91916 Cr. reflecting low demand
RBI cut repo rate by 25 bps to 5.15% which was expected 25-40
Global Negative Market News
13th round U.S – China Trade war talks mix ahead
U.S manufacturing sector slowdown
Indian stock market awaiting a positive impact of finance minister Nirmala Sitharaman's booster dose to give a leg up to the economy. We expect good news and data to release within the next two months. On 17th September 2019, NIFTY50 jump straight 500-700 points with the release of a booster dose news.
The market will continue to struggle on news and data for the upcoming month. Traders can only benefit by taking advantage of the market sentiments. However, underdone of the market remains bullish. NIFTY50 after a strong rally of 500-700 points remain within the weekly and monthly support. The difference between the support level was high which disrupt the traders to invest in the market. Always trade in the market when the market level is resilient to stop loss.
Forthcoming Events
On Monday 7th October 2019, CPI and WPI data will release. On Friday, 11th October 2019, the RBI MPC meeting will hold to discuss actions to boost the economy. In the global market, China's industrial production number will release on Friday. These are few domestic and global news that can impact the stock market.
What to Expect in Stock Market This Week
Nifty50 market daily resistance level will be 11,388; the weekly resistance level will be 11,491.

During the short-term, NIFTY50 expects to remain bearish. Perhaps, during the long-term, the NIFTY50 expects bullish at the support of 10960 levels.
Conclusion
The stock market last week opened on a positive impact expects to stay for the next week. Here are the market levels for next week on the candlestick chart.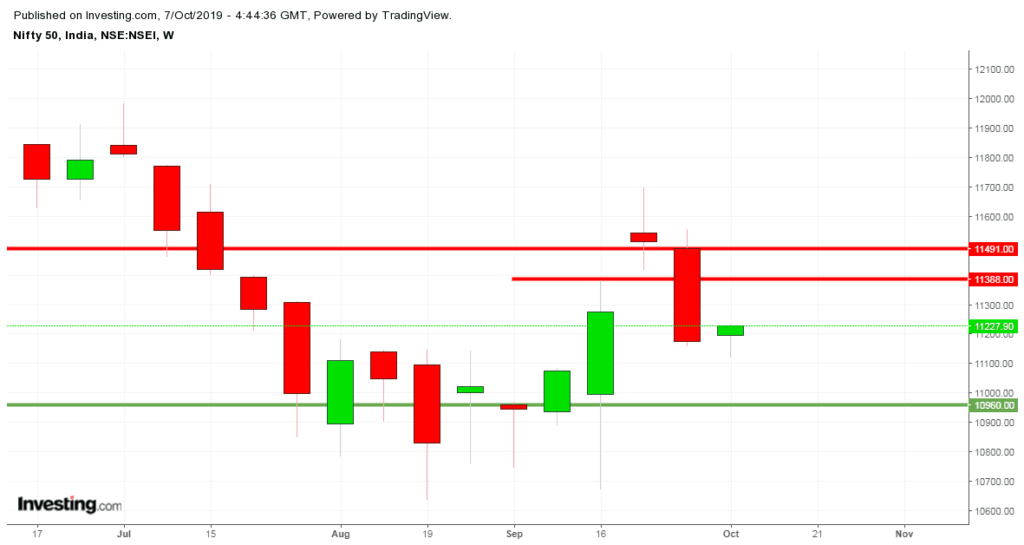 Nifty 50 stock indexes slipped to 11,175 levels on Friday 4 October 2019. Stock traders can expect following trades for the upcoming week.
Short-term traders must maintain a bearish position with a resistance level of 11,388
Long-position traders should sustain bullish position at the support level of 10,960
A trade beyond 11,388 a level can trigger a short-covering rally. Range of Nifty would be between 10,900-11,500.
Do not take sell trades beyond the bearish level of 11,388.
Unexpected market sentiments can impact the market negatively with fall in level to 200 points.
Short-term traders must avoid selling position. Whereas long-term traders must maintain the buying position of a support level of 10,960.
The festive season is around the corner. We expect good market news will release to positively impact the market levels.
How to Determine Stock Market Support and Resistance Levels
Are you interested to learn how to calculate market support and resistance levels? Do you want to learn how market data and event impact the market levels? Any investors who want to earn higher profits from stock market investing must learn to determine market levels. Market levels undoubtedly are a highly valuable attribute of technical analysis.
You can learn to calculate market levels with Uni-Directional Trade Strategies Online Course. Or you can master how good and Bad market news impact levels with Market Analysis by Data and Event (M.A.D.E) course.
Watch Video