Use your lockdown time to add new skills with online stock trading courses now available at discounted prices. These skills are helpful for beginners who want to make money or extra income in the stock market.
It's hard to ignore the anxiety encountered from national lockdown. As the World Health Organisation (WHO) confirms over 8 lacks confirmed cases of COVID-19, it's imperative that each use adheres to the lockdown guidelines. While staying at home for weeks may feel like a trap and may peak anxiety.
As the world fights against coronavirus disease with lockdown, it is a good idea for people to invest the spare time at home to learn how to trade stocks with IFMC online stock trading courses. Utilize this time at home to learn how to make online, besides, take this time to add a new qualification to your arsenal. IFMC Institute offers a short-term online stock market course for beginners who want to learn to trade.
Making money from home
Making money from home is easy. The majority of you have heard about it but not many know where to start. Well, this is your last chance to get started with making good money by investing in shares. Yes, the share market is the best way to make money. Although there are several methods like saving funds, mutual funds, fixed deposits, etc the share market is the best option which can give you the highest return.
Read More What is Financial Modelling
We all plan to start in a share market, but with our busy schedule, we don't have any time. With the midst of lockdown let's put the time to use and spend quality time learning the stock market online.
Online Courses
With the social distancing key to fighting against COVID-19, the idea of joining a full-time stock market courses goes right out of the window. Moreover, for working professionals who have 9 to 6 jobs and cannot attend a full-time course, online programs open the door to learning opportunities.
Online learning has replaced traditional ways. It is true that an individual can save a lot of time while learning from home. It saves time from getting stuck in traffic jams and money from travelling.
You can take the stock market classes as per your schedule. The course is designed by industry experts who may be hundreds of kilometres away from your home. You can have access to master content by qualified experts on the internet. Besides, you do not need a desktop. There are several online share market courses which you can study on a laptop or mobile.
Online learning gives an opportunity to aspirants to study from anywhere and anytime. Above that, IFMC Institute today announced a discount of 20% of all online combo stock market courses. IFMC e-learning platform for online stock market courses lists 16+ of courses in share market, technical analysis, fundamental analysis, research analysis, Elliot Wave, and more. Here are top online combo courses available on discount to upskill yourself and make the most of the lockdown period.
Online Quick Trader for Intraday & Positional Trading
Quick traders online share market course is a short-term program for beginners. It is a foundational course where anyone can learn the basics of trading. The purpose of the program is to equip students with the knowledge of the stock market and how to get started with trading.
Online Stock Market Course for Traders
Online stock market course for traders is short-term for freshers who want to become an investor or trader in the stock market. This course is designed to help you understand the basics of the stock market and how it works. It is the best course for beginners who want to learn how to make money in trading shares.
Online Stock Market Course for Professionals
Online Stock Market Course for Professionals gives you an understanding of new ways of trading. After taking this course you will learn trading like a professional. IFMC helps beginners to make them certify who want to get b.,asic ideas to execute observations and trade shares.
Online Options Trading Course
Options trading online course gives an overview of different trading strategies used in options. Traders can option trading strategies and earn money with less risk. In this course, one can learn to use techniques used to trade options. This course is for traders, sub-brokers, investors and all those who want to learn options strategies.
Online Technical Analysis Course
Technical analysis of stocks is a method to predict the stock market. An online technical analysis course covers mathematical techniques of forecasting future financial price movements. The technical analysis applies on shares, commodity, currency, options, and capital markets. You will be able to analyze and comprehend essential technical indicators. The technical analysis course also covers the study of chart patterns, moving averages, and more technical tools.
Online Fundamental Analysis Course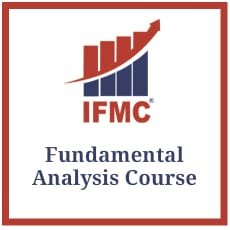 Online fundamental analysis course is an important program for investors, traders, and working professionals. Fundamental analysis is a study of company financial history. It helps to discover the undervalued stocks to look for. It teaches you how to trade the market-based in companies fundamentals.
How stock market course can help to make money
We all know share market investing in a lucrative way. But without knowing it can be risky as you can lose your hard-earned money. A smart way is to learn before getting started to share trading. IFMC Institute through online courses ensure aspirants master trading skills for profit maximization. You can uncover these skills and learn share trading in less than 24 hours and can make career in stock marketing.