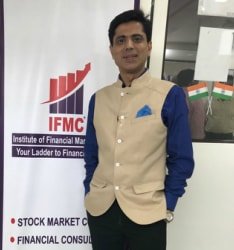 Mr.  MANISH TANEJA
Profile: Mr. Manish is working as a consultant with IFMC and also heading Research wing of IFMC.
Mr. Manish is a renowned name in the financial world. He is a qualified Research Analyst from NSE and has a vast experience of over 20 years in stock markets. He is handling the portfolios of HNIs and corporate clients of Reliance Securities Ltd. His branch at Lajpat Nagar is handling over 6000+ Clients. Equity, Derivatives, and Commodities are his forte field. His keen interest in the market is evident in his genuine working style.
His "Art of Trading" workshops are much sought after and appreciated by students and investors alike.